Going away somewhere nice? Flying out of Toronto Pearson airport? Need to park the car there for a while? Want to save a few bucks on the cost of car parking? I found a handy printable discount coupon to do just that.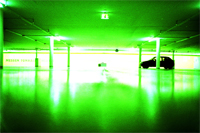 What

: 20% Discount on your car parking

Location

: 6135 Airport Road

Where

: Toronto Pearson Airport
There's a 24 hour link train service to both terminals 1 and 3, so you can hop on that to get you to your flight on time. If you'd like some more info on the deal, you could give them a call on 416-776-5158. If you use that coupon, they state that the daily rate would be $11.20, or you can pay for the weekly rate of $52 (which is $7.40 per day). Those rates include taxes, and seem pretty reasonable!
So, while you're melting on the beach in Mexico, or polishing off that croissant in Paris, don't worry about how much the car parking costs!!
The free coupon can be used any time from now until the 31st of December 2009.
Thanks Markus Moning.