Are you a culture vulture? Do you enjoy a stroll round a quiet and peaceful art gallery, or a browse round an interesting museum?Toronto-arians and Ottawa-ites, check this out!
Toronto
This is a little blog post about Toronto Public Library's Sun Life Financial Museum Arts Pass program. All you need is a valid adult Toronto Public Library card, and you can claim free "Museum and Arts passes." You can read the full press release here on the Toronto Library website.
So far, they have only been giving out the free passes at a few of the Toronto branches, but from the 7th of March 2009 they will be available at all 99 library branches. For most venues, the pass provides free access to 2 adults and 4 children. This could save you quite a bit in entrance fees! For example, adult entrance to the Ontario Science Centre is $18, and kids access is $11. if you are taking 2 adults and 2 kids for a day out, you'd save $58!
Some examples of major participating venues where you can use your free pass: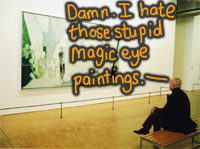 Art Gallery of Ontario
Museum of Inuit Art
Ontario Science Centre
Royal Ontario Museum
Textile Museum of Canada
There is a complete list of the locations here.
Ottawa
The folks in Ottawa can also get a very similar deal. You can use the OPL card at various locations too.
See more info on the Ottawa Library deal here.
Examples of locations:
Canada Science and Technology Museum
Canadian Museum of Civilization
Canadian Museum of Nature
Canada Science and Technology Museum
Montreal
Some museums in Montreal are always free, perhaps only at certain dates and times. From 5.30pm on Thursday evenings, you can visit The Canadian Centre For Architecture, and from 6-9pm on Wednesday evenings, you can visit The Contemporary Art Museum, both for free. Both the Redpath Museum and the Montreal Museum of Fine Arts are free any time.
This is a great offer if you enjoy this kind of thing. I love museums and galleries. When I am in foreign countries, I always try to get in to the most famous locations for some cultural experiences. One of the best museums I've ever been to was the Rijks museum in Amsterdam. It was huge and filled with loads of interesting exhibits. One of the most stunning was Rembrandt's Nightwatch. This little image doesn't really do it any justice, as it was about the size of the side of a building!
I also saw my first ever Dali in the Vatican museum, my first ever Van gogh in the museum of the same name, and my first ever Leonardo Da Vinci in the Louvre. :)
Thanks Steve Greaves.