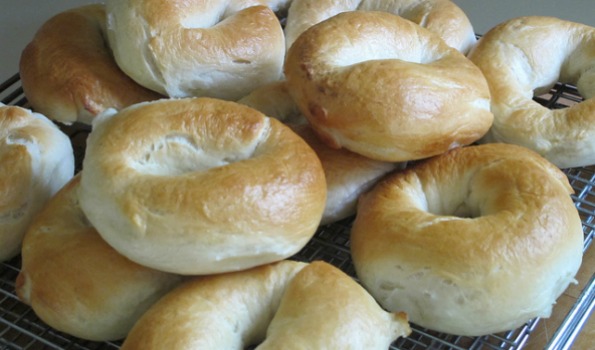 Did someone say free bagels? Those in Toronto can grab six free bagels on Customer Appreciation Day with no purchase necessary @ What A Bagel. This bagel shop has ten different locations across the GTA.
I have never tried a bagel from What A Bagel but  I would like to think I am a worthy judge of a good bagel. We are currently lucky enough to have our own fresh bagel shop near our home in Montreal and they know my daughter by name. Half a bagel with cheese and some fruit is her breakfast for most of the week.
If you live in Toronto, you can have your own free and delicious bagels on March 24, 2015. This offer does not specify what flavor of yummy bagels you will receive. What makes this deal sweet is no purchase is necessary to receive your free bagels. I managed to find a list of available flavours on the brunch menu. They include:
Poppy
Sesame
Plain
Multigrain
Whole Wheat
Pumpernickel
Flax Seed
Cinnamon Raisin
All of these flavours on the brunch menu are $.99 cents per bagel. Perhaps you will be able to pick your favourite flavour to try.
I noticed another great deal on this page. If you head in to a What A Bagel on your birthday, you can buy six bagels and get six free. While not quite as awesome as the free deal, if you like the bagels it may be worth heading back. You must show your photo ID to claim the birthday deal.
While you are there, you could pick yourself up one of their other delicious treats. The bakery also carries Chocolate Buffalo and Poppyseed Danishes that both sound delicious. Also available in the bakery are rugelach in flavours such as chocolate, raspberry, raisin, and apricot. Fresh bread including challah and other treats are all also baked fresh daily.
So set your clock, put a reminder on your calendar, or make yourself a Facebook event. Whatever method you choose, head over to What a Bagel on customer appreciation day early if you can. Bakeries open early and it looks like most of the locations open between 6am and 7am. Freebie days for any store tend to be busy. The earlier you can get your bagels the better.
Image Credit: Dale Calder
(Expiry: 24th March 2015)