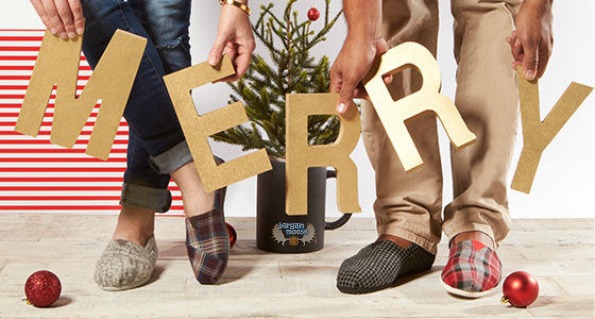 Merry makers can unite when you score $5 off a $25 purchase @ TOMS plus free shipping.
Coupon Code:  THANKYOU5
Discount: $5 off of $25 purchase
Expiry: 2nd January 2014
First and most importantly, their shoes are comfortable. Way comfortable. They're quick to throw on and many of their styles are simple enough that they pair with anything and do look great. If I was going to pick up a pair right this second I'd pick the Grey Herringbone  Youth Classics at $23.50 once you add the$5 off of $25 Toms coupon. They have a regular price of $45. There are still quite a few sizes left and these shoes will go with almost every casual outfit a kid could own.
TOMS are easy wear. You're basically throwing on a pair of slide on slippers that are acceptable to wear outside. The shoes just hug your toes like a blanket.  I just wasn't getting why people were willing to shell out the price tag they had attached to a basic pair of comfortable cotton shoes, then I read more about TOMS one to one program. For every sale they make on shoes they're willing to help someone in need and give them a free pair of shoes. They've helped:
Give 35 million people free shoes since 2006
They've now expanded the program to their eye wear helping people in need to see clearly
They also started selling coffee now and use some of the money from each purchase to provide clean drinking water
I can wrap my head around that.  A pair of shoes that helps someone also? We both win. It's another great way I can help someone at the holidays and all year long.
Ok, TOMS I'm hooked, we can be friends. I'd grab these tiny TOMS Biminis available in size 2 only. So many of the good sale shoes are in limited sizes right now so grab quick. These shoes would be a great baby shower gift. Say it with me now awwwwwwwww. He'll look so handsome. $25.60 with free shipping when you use the $5 off of $25 coupon.
You won't find a better deal than that. Most of these shoes run between $40 to $50 per pair, plus you get to help someone. I like supporting companies that help others also.