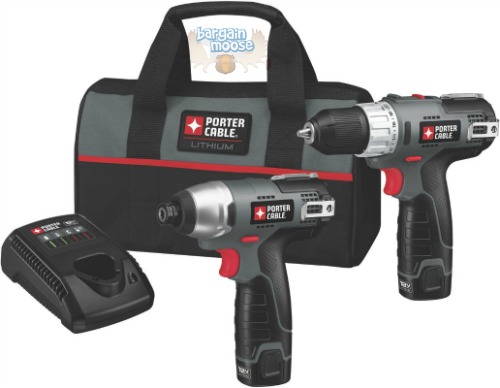 *BUMP* Check out this great little steal. Amazon is offering the Porter-Cable 12-Volt Max Compact Lithium-Ion 2-Tool Kit which was previously $286.98 for only $92.29. This combo kit is a steal for a quality power drill and meets the requirements for free shipping.
I am no stranger to tools but my husband, father and father-in-law are usually the experts that I consult when looking at great deals on tools. This double drill set is a great deal for a powerful little drill set that will last. If you are not familiar with Porter-Cable, they are truly is a brand you can count on.
My father-in-law is a true bargain hunter. He will drive past three other huge stores to get to the store that has the cheaper ketchup and then pick up buns at another store just to save a dollar. He has been slowly switching his tools to Porter-Cable because they are reliable and great value for the price. He has renovated multiple houses (you should see his log cabin style rooms!) and Porter-Cable is always in his toolbox these days.
Reviewers praise this particular drill set for being light. If you have ever been in the middle of a project and felt your arm was going to fall off, you know it is an important feature. They are also cordless with quite a bit of power. It comes with a larger more powerful drill and a smaller drill for getting into even tighter spaces. This drill also provides multiple speed options and a tighter grip on the bits so you strip fewer screws and do not destroy the bits.
This drill set is not going to be cheaper elsewhere. I price compared across the web and right now the only other major retailer where this combo pack is available is Lowes.ca for $159. Looking over the border, the Americans are paying $101.97 @ Amazon.com and are reviewing these with high ratings. We are getting a better deal on our end.
Those who took the leap to buy this set gave it high reviews both on Amazon.ca and on the Lowes.ca site.
It is so much nicer than my other rechargeable drill as it is so big, unbalanced and clumsy. These units are well balanced, light weight and have a light to show your work space and just a joy to use!
Another reviewer sounds like they have completed their first project with these drills and had success.
These are great for small jobs. So far so good. The impact driver does have about 80 ft lbs of torque and I tested it. I love this and will but Porter cable products again.
Keep this set handy for all of your small projects. You can thank me later! Bargainmoosers, what projects do you have in mind for these drills?
(Expiry: unknown)