(NOW EXPIRED) This is a really excellent bargain if you need a new screen for your desktop PC! The monitor will be on special offer today only, as it is part of the Dell 10 Days of Deals on their business site.
If the direct link doesn't work for the product, you'll have to go to the small business section via the links at the top, and click the banner for their daily deals.
The Dell UltraSharp 2209WA monitor is $369.99 on their regular site, so $189.99 and free shipping is absolutely fantastic!
I'll paste in a few bits of the specification for your reference: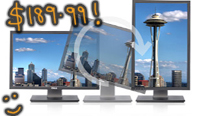 1680 x 1050 resolution in widescreen format

4 USB 2.0 ports, VGA and DVI-D

6ms response time

300cd/m2 luminance (brightness)

3 year warranty

Dynamic Contrast Ratio: 3000:1
In my opinion, this monitor could cope with anything you could throw at it, be it office work, gaming, movies etc. The 4 USB ports are so handy too – we have so many little devices that need plugged in nowadays! I have my graphics tablet, my ebook reader, my thumb drive, my mp3 player… all running on USB!
I actually have a 24" Dell Ultrasharp monitor, a slightly older model, which I bought a few years ago when it was many times this price!! It's a really excellent monitor, top class. One really interesting feature is the ability to rotate the screen by 90 degrees. If I am working on long Microsoft word files, I just swivel the monitor round and it makes it so much easier to work!
P.S. Dealguild Canada offer up to 5% cashback on Dell purchases.