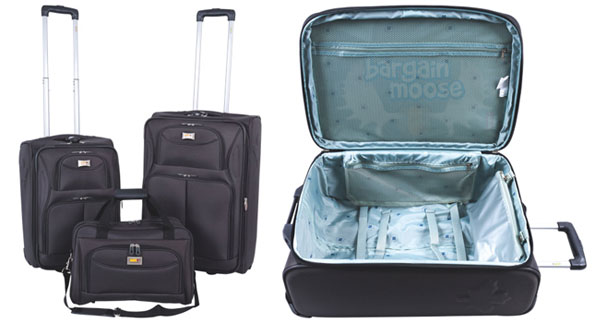 Wow wow wow, need luggage? Today only, you can save an incredible 81% on the Via Rail Canada Trans Canada 3-piece luggage set at Future Shop. Originally priced as high as $364.99, it's now down to just $69.99 and comes with absolutely free shipping!
Having just returned from vacation recently, I can tell you that packing can be a real pain in the butt. If you are planning on travelling soon and don't have a luggage set yet, then this is a definitely amazing deal. The last thing you want to do is pay an outrageous price for a set at the same time as having to pay for the expenses of your trip.
This set is made from 1200 Denier water-resistant polycord. One of the most important factors to look at when choosing a set is the weight of each piece. The lighter the set, the more you can pack! In this case, the largest suitcase is 4.2kg, the medium piece is 3.6kg and the tote weighs 0.8 kg. What's also great about this set is that it's expandable to offer 30% more room. The description doesn't specify whether the tote is expandable as well, but it would be my assumption that the expandable specification only applies to the suitcases. Both suitcases also come with inline skate wheels and an expandable handle to make transporting your luggage a breeze.
The tote features a large zipper to make packing easier and also comes with a removable toiletries kit.
Price comparing proved somewhat of a challenge but I did find a couple of Via Rail luggage sets on sale at Canada Luggage Depot. The cheapest Via Rail luggage set I found there is the locomotive lightweight hardside 3-pc spinner one, down to $179.99 (reg. $675), so despite boasting a large discount as well, the deal at Future Shop is still a better one by a long shop, though do keep in mind that these are two entirely different sets. All of the other sets at Canada Luggage Depot that resemble the one at Future Shop are over $259.
There are other huge discounts on luggage sets today only at Future Shop as well but the Via Rail set is by far the cheapest one. The Travelpro Maxlite 2 3-pc luggage set, for instance, is currently $830 off and is on sale for just $299.99 (reg. $1,129.99). This one is also a very good contender, especially since it features a water-repellant coating
But if you're looking to buy a set, I suggest you don't wait until the very last second. These sets are selling out quickly and there is no guarantee that they'll still be there later today, but you never know!
(Expiry: 4th March 2015)