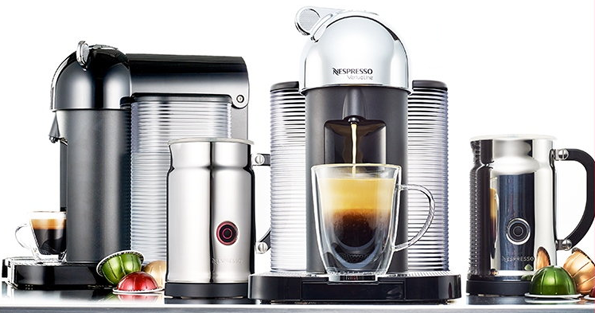 *** BUMP - since this was in The Bay's one day sales a few weeks ago, it's now cheaper with the Cyber Monday coupon - use code CYBER to get it for only $155 shipped!! ***
The Bay's one day deals started a few days ago – this is their pre-Christmas event in which they offer one brand or product at a great discount, each day. And today, I think they've got an absolutely fantastic offer happening on a Nespresso coffee maker. The deal is this – you can get $120 off the cost of a Nespresso VertuoLine Bundle which comes with the Aeroccino milk frother. The final price of this bundle is only $169.95only $154.95 with free shipping!!
There are two colour choices in this coffee machine; you can pick:
Let's look at pricing elsewhere to see how good a deal this is, from The Bay today. To order the above coffee machine and Aeroccino frother through Nespresso Canada would cost you $300, and it's the same at Best Buy. You can get the machine alone for $250 at Amazon, but it's nowhere near as good a deal. It's a similar story for most other stores that I checked – you cannot beat this price from The Bay.

While I was price comparing, I found a few recipes on Home Outfitters here – of coffees that you can make using this Nespresso machine. Pictured above from left to right, we have the Winter Breeze Coffee, the Gingerbread Viennois (yum) and the Apple Ginger Coffee! To be honest, I'd never really thought about how easy it would be to make speciality coffees like this from home, instead of forking out five bucks at Starbucks.
$25 Nespresso Club Credit & Free Nespresso Glass Set
There's an additional rebate offer which you might want to take advantage of if you're buying this machine today – regarding buying more coffee pods on the Nespresso site. You can get a $25 rebate when you buy the 180 piece welcome pack, as well as a free Nespresso glass set.
Now, I've logged in to the Nespresso site and tried to figure out the full details of this offer, but the site is pretty terra-bad to use. It's really difficult to find the 180 piece Welcome Pack, and I've no idea how much it actually costs. I've given you the basic info and the link to the details above, and I'll have to pass this one over to you guys, if you're planning on pursuing that part of the deal. :)
(Expires: 1st December 2015)