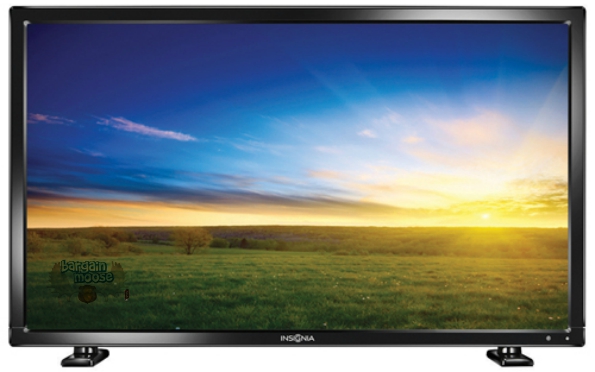 Today only, pick up a nice little Insignia 19" 720p 60Hz LED TV (NS-19E310NA15) on sale. Originally $119.99, this television comes under the rarely broken $100 mark... at just $99.99! Receive free shipping on your television order as well.
With plenty of ports, this TV should serve all of your needs. The television has two HDMI, one component video, one A/V (composite), one coaxial cable (RF), one optical digital audio, one headphone jack, one PC VGA, PC audio, one USB media and one MHL port.
I assume this will sell out quickly as two sold while i was writing this deal up. You should still be able to reserve for in store pick-up if the television sells out. Unlike Amazon Canada, you cannot buy things from Best Buy when they are out of stock.
This size of television is perfect for commercial displays in for a small business. You can use it in a home office as both an external monitor and television. Then you can work off the monitor and then watch relevant news and such.
In a dorm room, this TV can be used as an external monitor for your computer giving you needed extra visual space for writing research papers and doing homework. It can also be used as a TV to watch shows or you can hook it up to a gaming console for after school relaxation.
This television is also good in a child's play room as a way for them to watch all their favourite kids' shows including The Cat in The Hat and more. The television may be small, but it is a versatile unit that can be used for many things. It also takes up a small space in your house, thus it is perfect for small spaces like apartments, bachelor suits, studios, and dorm rooms.
While i could not find this television many other places, I price compared with the cheapest 19" televisions I could find. Walmart Canada sells an RCA 19" television for $108. Amazon Canada has a Proscan for $159.99. If you are a Mooser on a budget that needs a new TV, then this is the television for you.
Reviews are mixed with an average 3/5 star rating in total. Do keep in mind that you pretty much get what you pay for. This is a 720p HD screen with a 60Ghz refresh rate. Do not expect it to perform like a 1080p HD, 120Ghz television.
(Expiry: 18th July 2015)