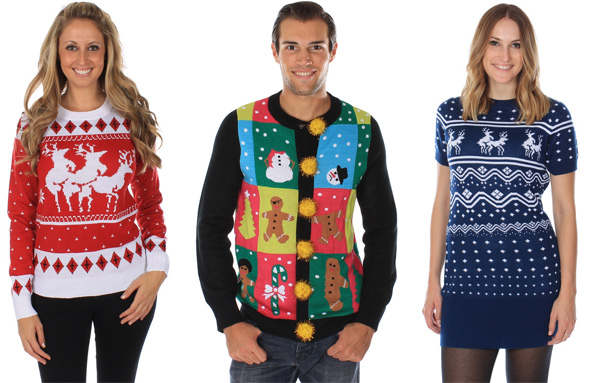 A couple of weeks ago, I found the most amazing site – Tipsy Elves! OMG I am so excited to tell you about them! They're a Canadian retailer selling a fantastic range of Christmas clothing and accessories. I've been keeping my eye out for coupon codes and deals as I really wanted to share this store with you guys. And today, they've released a ONE DAY only coupon code for a 15% discount on anything on site!!
Click here to use the Tipsy Elves coupon code online now
CouponCode: Elf15
Discount: 15% off anything
Expires: Unknown
Please make sure you copy and paste the Tipsy Elves coupon code above as it is exactly. On their site this coupon code is on a banner across the top of the screen and there is a space in the middle of the coupon. But the discount doesn't work with the space – it WILL work as I have it above, as you can see from my test order here: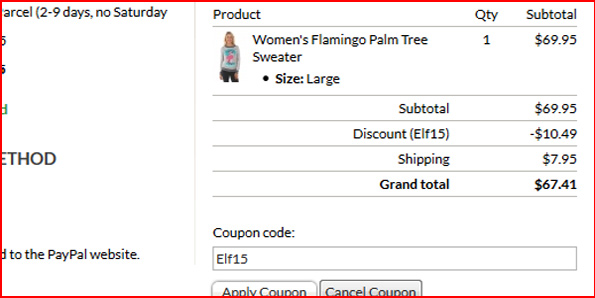 There's a huge and amazing selection of clothing to choose from. Sweaters in the sale section start at $49.95 which would be $42.46 after the discount code. However, sizing is a little spotty on those. For example, the ladies sweater pictured at the top left is the Reindeer Menage A Trois Sweater but it's only available in extra small.
At the top right, I've pictured the Women's Reindeer Short Sleeve Sweater Dress and ZOMG I am seriously in love with this! I would LOVE to wear this in December! I'd actually love to wear it all year round but I don't think I could get away with it. This dress comes to $59.46.
There is some very tasteful clothing on Tipsy Elves, but there is also some very tacky clothing too! Some of the men's sweaters are FANTASTIC! Check out this Men's Ugly Patchwork Cardigan for $59.46 after the coupon, it's pictured up above too. Isn't this just the height of bad taste? Or would you like your man to wear this?
Now, you might think a few of the items on there are a little pricey… but these are one-off purchases which you will use for many holiday seasons to come. For example, my OH bought me a beautiful Christmas sweater four years ago, and I've been wearing it every December, each year since then. I think Christmas sweaters are an investment!!
Shipping from Tipsy Elves seems to be a flat rate of $7.95 which is a bit of a bummer to be honest. But at least the 15% coupon code should offset the majority of that.