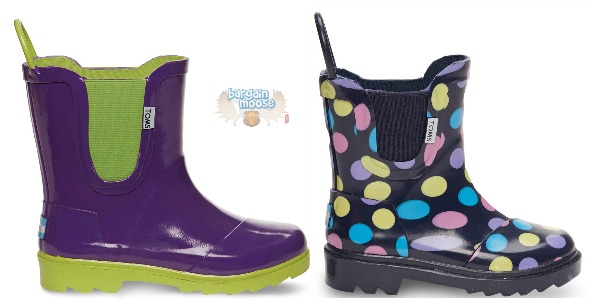 Select styles of Tiny TOMS rain boots are on sale over @ TOMS Canada. These boots were $48 and are on sale for $29.25. With the coupon codeSPRING15 you can get them for only $24.25. Free shipping with no minimum is included with every purchase until the end of March.
Yesterday on the way back from picking up my daughter, she found a huge puddle in the parking lot. Luckily for me, she was wearing her snow pants this time as she gleefully cannonballed into the puddle. By the time we left, there was not a single spot on her below her armpits that was dry.
This was a good wake up call for me that spring is truly coming and I need to start seriously considering her rain gear.  I spotted these durable and adorable Tiny TOMS rain boots on discount today. These boots come in a variety of sizes and colours, so you will want to pay attention carefully to which ones you grab. The following colours are on sale:
Camo: Size 11
Purple & Green: Sizes 5, 6, 7 & 10
Multi Dot: Sizes 9, 10 & 11
Pink: Sizes 9 and 10
TOMS makes a good quality shoe, and I would trust that they make a pretty good quality rain boot. I have owned a few pairs of TOMS shoes and have a friend who goes out of her way to regularly purchase TOMS products for her kid. These boots also look comparable to BOGS rain boots which are a pretty well-loved rain boot for kids.
I have talked in past posts about how great TOMS One to One Programis. If you like to do a little good with your retail purchases, TOMS is a great company to shop with. For every pair of shoes they sell, they also give a pair to someone in need. They have given away over 50,000 pairs of shoes in South Africa and Argentina. It is almost like a buy one, get one free deal then.
If you were to go toGet Outside, you would pay $49.95 for these rain boots. Not many other retailers carry these rain boots. At BOGS you will pay $50 for little kids rain boots of a similar style and quality. AtSoftmoc.cayou will pay a minimum of $50 a pair for a pair of BOGS rain boots. Better to grab this TOMS style before they are gone.
The youth styles of these boots are also on sale, with a little bit of a higher price, so you'll want to check those out if you have kids older than toddlers.
There are only two reviews for these boots on TOMS website. One person thought they were too heavy for a four year old. The other reviewer was thrilled with the purchase. You will have to use your own best judgement. Here is the happy reviewer.
We LOVE these boots and so does our son! He likes to wear them everywhere...even in the house in just a diaper. We've gotten tons of compliments. They are perfect for our Seattle weather. About to buy the next size up :)
I would grab these boots now while they still have the size you want. Durable, cute & ethical rain boots will not last long with spring on the horizon. Grab your favourite style before they are gone.
(Expiry: Unknown)