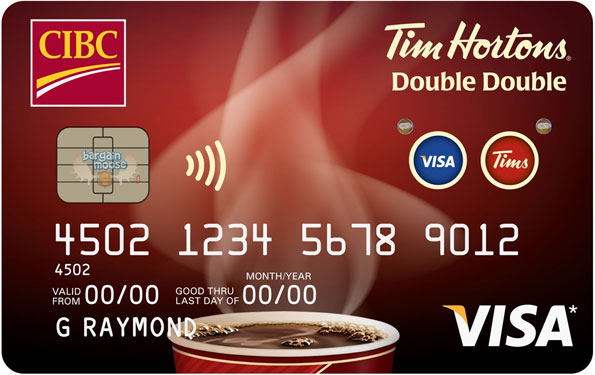 Following a partnership with Tim Hortons, CIBC now has the Tim Hortons Double Double Visa card available!
Considering how addicted most of us Canucks are to Tim's, this new partnership is bound to make many happy! The Tim Hortons Double Double features a 1% cash back, which means that you will get 1% of the total you spend back in the form of Tim Hortons dollars. This basically amount to $1 back for every $100 spent.
But the real excitement comes in the form of new technology used in the card as it has two buttons on it: one for the Visa card and one for the Tim's card, each of which need to be pushed depending on the purchase you're about to make. If you're at a Tim Hortons store and wish to redeem the money you have earned, then you simply push the "Tim's" button and if you're at any other store, then you push the "VISA" button. In either case, a light will come on to show which part of the card you're using. The Tim's card may also be reloaded in any regular fashion, whether online or in person at a Tim Hortons store.
Other perks of the Tim Hortons Double Double card include:
$20 welcome bonus once $200 worth of purchases are made on the Visa card
50 free Timbits with every 50 Visa purchases
1 free baked good when 5 purchases are made on the Tim card and 5 purchases on the Visa card per month
With zero annual fees, it has an interest rate of 19.99% on purchases and 21.99% for cash.
For any frequent visitor of Tim Hortons, this should definitely be a very enticing offer, especially given the convenience of having a Tim's and a credit card in one.
How often do you visit a Tim's and is this a credit card you would like to have?
(Expiry: Never)