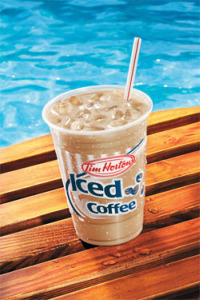 I'm not a fan of coffee. I'm really not. So it never was one of the factors that could explain how I ended up stuck at 5'3. However, a couple years ago I discovered the glory of Tim Hortons' Ice Caps. But by then I had no hope of growing even a millimetre taller, so why not coffee up?
For those of you not fond of the adverse effects of the Ice Caps... say the major sugar high, and large amout of calories packed into one little unassuming drink, Tim Hortons offers an Iced Coffee... which is ice, and coffee, and some amount of sweetness (or is that a rumour?) According to Tim Hortons:
"It's our premium blend coffee poured over ice, served sweet and creamy. It's a refreshing way to enjoy your Tim Hortons coffee. Try a small for just $.99 cents this summer. * At participating stores. Prices may vary by region."
I think the average price of a small Iced Coffee (correct me if I'm wrong) is around $1.29 so if this is your daily fix, hey, it just became a bit cheaper! If not, maybe give it a try this summer as a cooler way to get your caffeine.