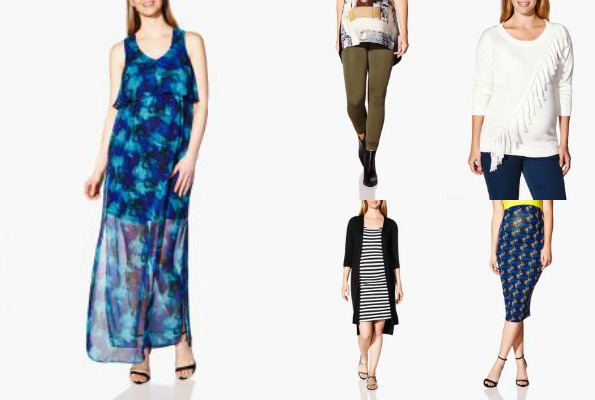 Are you getting to that nine month mark and nothing is fitting you? You want something new and pretty, but don't want to spend a ton? I've got a hot deal for you from Thyme Maternity. They've got a gorgeous sleeveless printed layered maternity maxi dress on sale from the $69 price point it normally sells at, all the way down to just $4.99! Normally this wouldn't be a huge steal because you need $100 in your cart to get free shipping, but my good friend Brooke found the coupon codeFALL that gives you free shipping with no minimum! You can get this dress for less than $5 and shipped to your door too!
Plus, there are a ton of items in the sale section, with prices starting at only $4.99 - with free shipping!!
Of course, if you just found out you are pregnant, this is the perfect dress for spring and it is good to plan ahead when you see hot deals like this. Maternity wear often goes on deep discount in the off-season because of the brevity of pregnancy. Calculating ahead, if you found out now you are pregnant, you are going to be going into summer with that belly and this dress would do just nicely. I would also wear it now personally, if I were pregnant, even with the sleeveless look, because I was a hot pregnant mama and I needed to be half undressed most of the time, even in the winter.
Sizes extra small, small and large are all available. This dress would also be great for a destination wedding and no one has to know you only spent $5.
If that dress didn't catch your eye, but you need some maternity clothing, Thyme has a large sale section with items starting from $4.99. If you are going to have the largest of your belly over the winter, you might want a new sweater and this long sleeve fringe maternity sweater is very cute! Just be careful with the white because drips from food seem to always land on the belly! Regularly $59, it is on sale for $29.99.
I also noticed that you can get leggings, regularly $24, on sale for $9.99, but on top of that you can buy 2 and get one free!
If you happen to spend $100, or you might want to, there is also a coupon code here for $40 off $100 today only!
(Expiry: Unknown)