If you're in the process of brewing up a baby, you're probably seeing all the costs start to add up. Would you like a $15 discount on a $100 spend @ Thyme Maternity Canada? If so, print out the coupon below!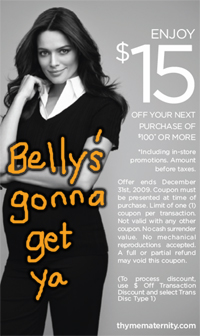 As you can see from the coupon itself, there are also a few other coupons on there which you can use in-store @ Toys R Us Canada (Babies R Us). They were previously mentioned in this Toys R Us blog post, but I think the coupon for Thyme Maternity is worth a special mention. The free coupon is good until the end of December 2009! Ages to go! So even if you're just trying to get pregnant now, or have an inkling that you might be in the near future, don't forget to make use of the coupon on Thyme Maternity wear!
I was having a nosey round their site, and a lot of their maternitywear seems to be pretty stylish! Alas, their website uses flash, so I cannot direct link you to any of the nice products. They've got quite a nice range of tops and tees, even blouses.
I've never really thought about this – but they sell maternity lingerie! I know there are special nursing bras and things, but Thyme maternity also sell special pregnancy panties. I guess I just assumed that your normal panties just fit you perfectly, but I guess there could be complications.
If you liked this blog post, you should really subscribe to the daily email updates from Bargainmoose :)