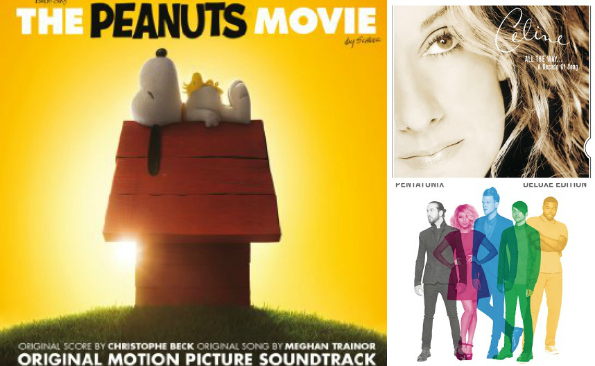 The Google Play Store has three fresh new albums for FREE. Yes my dear Moosers, that is no money down and no money to pay later. Own the digital rights to All The Way... A Decade Of Song by Celine Dion, the self-named Pentatonix (Deluxe Version), and The Peanuts Movie - Original Motion Picture Soundtrack.
I was all excited about The Peanuts Movie Soundtrack when I discovered these other gems. The Peanuts Movie - Original Motion Picture Soundtrack is a compilation disc of various artists. The first song is classic Peanuts and then there are some gems from Meghan Trainor and more. The same album is $9.99 @ iTunes Canada.
All The Way... A Decade Of Song by Celine Dion compiles years of Celine Dion's most beautiful songs and sticks them all into one album. I love her song from Titanic the most, and I am sure that I am not alone. Celine Dion may be one of Canada's biggest musician success stories and we should be proud to have her as one of ours. This album would cost $9.99 if you bought it at iTunes Canada.
Pentatonix - the deluxe version - includes 17 songs to warm your heart. I am not terribly familiar with this group but they seem to be quite popular based on the reviews. One reviewer said:
Nothing short of amazing PTX has been my favorite group for awhile now, and I've been so pumped for this CD to come out! It's everything I was hoping for and more :)
Another customer considers them the best band ever (I would have to disagree with this) so they appear to have real die-hard fans. That is pretty cool. It is even cooler that you get to save $12.99, which is the current price for this album over on iTunes Canada.
In total, you save $33 and get three beautiful new albums to add to your collection. I just added all three of these albums to mine: why not? It takes two clicks per album and you are done. Hope you love these new music freebies!
(Expiry: Unknown)