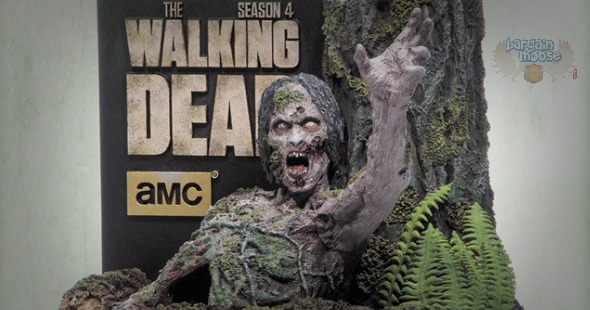 *Bump! The Walking Dead Season 6 just came out - so now fans can enjoy an even hotter price on the previous seasons in limited edition versions*
The Walking Dead fans, here is a deal that might not be live for very long. Amazon Canada has The Walking Dead: Season 4 Limited Collector's Edition on sale for 73% off the regular price. This means you will be left paying just $39.99 for this Blu-ray and Digital Copy of The Walking Dead Season 4 instead of $150. Shipping will be included in this price from Amazon.ca as well.
Prepare to indulge yourself in 5 discs of The Walking Dead: Season 4 with this great discount from Amazon.ca. You would normally pay $150 for this Limited Collector's Edition (Tree Walker Set), but now you will pay just $39.99 if you act fast enough. Of course the Digital Copy may be subject to expiration, but for this price you can't complain really. Other retailers are selling this same Limited Collector's Edition Season 4 of The Walking Dead for almost double the price. This is an excellent Christmas gift as well.
Here is a quick look at this product sold at other Canadian retailers:
In this season of The Walking Dead, you will get to see Rick and his group of survivors take care of the safe haven's community. This does not last long though. Soon, the group will lose everything including their family, friends and home. The survivors will be broken apart and set forth to experience new dangers, enemies, and choices. You will have to watch this season of The Walking Dead to see what happens.
If you need the other seasons of The Walking Dead in Limited Edition, then check out these other Amazon Canada offers:
Personally I don't watch The Walking Dead. I don't find much time to sit and watch a TV series. If I did have the time though, this would definitely be on my list of shows to watch. I can't stand commercials, so the only way I would watch a TV series would be if I were to purchase it in a set like this. There are many satisfied reviews for this product, but some cons as well.
Amazon Canada will even throw in free shipping on all orders over $25, so you won't have to worry about paying any of those fees. Act fast though, we all know that Amazon.ca deals can vanish in the blink of an eye. If you are a serious enough fan, the disc case is even a cool looking zombie climbing out of a tree. What an elegant decoration!
(Expiry: Unknown)