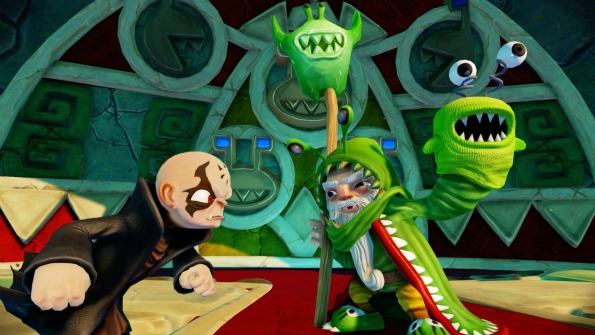 **Bump: these kits have dropped AGAIN - to only $4.96 for the PS3, PS4, & Xbox One versions**
Skylanders is the perfect console game for kids and adults alike. Right now, The Source Canada has a huge sale on the Skylanders Trap Team Starter Pack for various consoles. Originally up to $84.99 each, each version  is now on sale from just $4.96 at The Source! You can buy the Skylanders Trap Team Starter Pack for the PS3 and Nintendo Wii at a crazy reduced price.
This game is currently in stock for just the PS3 and Nintendo Wii consoles right now - so if you have just bought yourself a new console this Christmas, then now is the time to pick up this awesome game. The PlayStation 3 version is $4.96 and the Nintendo Wii version is $9.96.  This deal is hot hot hot! I could not find this game for these consoles cheaper ANYWHERE else - and that includes the big boys like Amazon and Best Buy. Here are the prices at those two giants:
Amazon:
PS3: $74.99
PS4: $30.95
Xbox One: $14..95
I actually found this deal when I was price comparing the Amazon Canada price for the PS4 version. I was shocked to see that The Source had it not only for $5 cheaper... they had nearly all the console version for only $20. Here are the prices at Best Buy:
Best Buy
PS3: $49.97
PS4: $49.97
Xbox One: $59.95
As you can see, The Source Canada's price is - on average - 1/3rd the price of all the prices at Best Buy Canada. While they do have the PS3 and PS4 versions on sale - that sale price is pretty week when you consider it against The Source Canada's price..
Let's talk game! The start pack includes one (1) video game, one (1) Traptanium Portal, two (2) Skylanders Figures, one (1) Character Collector Poster, two (2) sticker sheets with secret codes, and two (2) trading cards. There are small parts so you will want to keep this for children older than three. This game is pretty awesome for children as it immerses them in the Skylanders world. Adults can have a lot of fun playing it too.
Frankly, this would make an awesome Christmas gift for under the tree this year. This game and included figures has such value beyond what you will pay. You cannot even buy two Skylanders figures for under $20 unless they are on sale - so this deal is super wicked.
Receive free shipping to store or free shipping on orders of $25 or more.
(Expiry: Unknown)