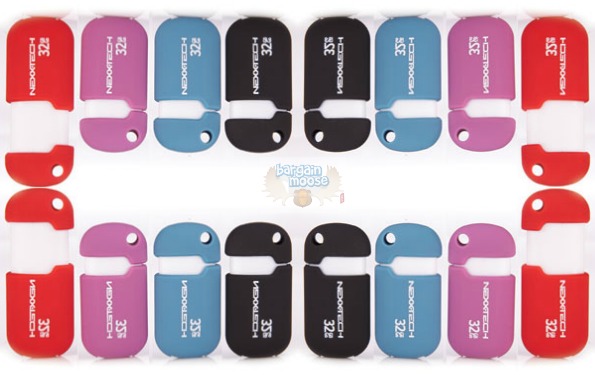 The Source Canada has further discounted the Nexxtech 32GB USB Thumb Drive. Originally $49.99, this 32GB flash drive is on sale for $12.99. Use The Source coupon codeTS4411 for free standard shippingto your door.
Okay, I will admit I have blogged a similar deal before. Back in September, The Source had the Nexxtech 32GB thumb drives on sale for $14.99. There was no free shipping promo. Therefore, if you wanted it shipped to your home, then you had to pay an additional $4.95. Not only is the Nexxtech drive cheaper right now, you also save $5 on shipping. Sweet!
For your information: this is a 2.0 not a 3.0 thumb drive. For tech newbies, that refers to transfer speed. The newest flash drives are all 3.0 speed so this is the previous generation. I do not think I own anything (hard drive, flash drives, etc.) that has the 3.0 speed yet. I tend to use electronics until they die, so that is why.
The reviews are very positive! One reviewer said:
This USB does it all. It is well made, comes in great colors, has built in storage sleeve, bought on sale at a ridiculously low price and bought 4, has a place to attach to a carrying handle and is very high quality.
Another reviewer said:
Great value for the money. I bought it while on sale ($14.99) and I love it. It's fast enough and full of space for pics, music or movies.
This reviewer also said that shipping to his door was super-fast. He ordered the Nexxtech drive on one day, and two days later the drive arrived.
As I mentioned before, a 32GB thumb drive holds more data than your average consumer will ever need to store or transfer. A 32GB flash drive can hold 15,237 photos, 7,618 MP3, or 60 feature length films.
I could not find this model anywhere else in Canada but everywhere I looked, these sort of flash drives were $14.99 or more (without free shipping).
Now, if you MUST have the 3.0 speed - you need to shop at Amazon Canada. They have the Lexar Jumpdrive 32GB 3.0 stick on sale, in orange, from $41 down to $14.99 plus shipping. This is also a very good deal, but you can only score free shipping if you order $25 or more.
Whichever way you go, these are both great deals on a 32GB flash drive.
(Expiry: Unknown)