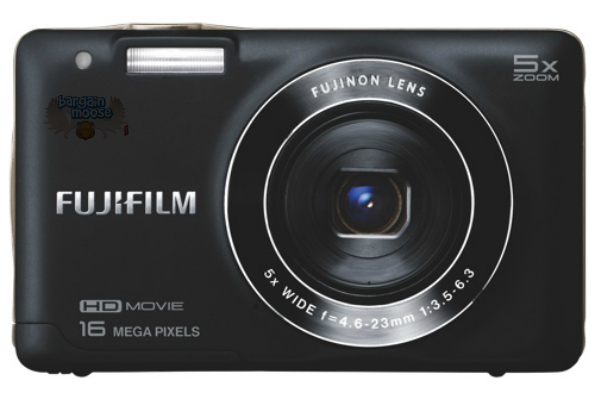 The Source Canada is offering the basic Fujifilm JX660 16 MP Digital Camera for only $64.99 with free shipping. After this promotional period, the cost of the camera will go up to $129.99.
I consider this a basic camera at a good price. While many people are not buying cameras as they are built into their smart phones, I still think a dedicated camera is a good choice. If your kids are into photography, it is far better to give them a $65 camera than a $650 smart phone. If they drop the camera in water, off a cliff, in the toilet, or smear it with peanut butter and try to feed it to the dog - you are not going to mind as much with a $65 item. In addition, cameras are quite resilient whereas when I drop my smart phone a couple feet, it threatens to shatter.
When price comparing this unit, I discovered this is a bit of an older model that many stores no longer have in stock. However, here are the prices from other retailers in Canada:
$89.95 @ Best Buy Canada
$89.95 @ Future Shop Canada (OOS)
$90.99 + $12.06 shipping @ Newegg.ca (OOS)
$94.99 @ Shop.ca (OOS)
Secondary sellers are trying to sell these cameras for $111 or more at Amazon.ca. It is easy to see that The Source Canada has the best price by nearly $35.
The Fujifilm JX660 camera has all you need for a simple but useful camera. The 16MP sensor captures good quality images. For video, enjoy HD 720p recording. There is a dedicated movie recording button and you can edit the videos as well (trimming, joining). With 5x optical zoom, you will get closer to your subject without having to shove the camera right up close.
In addition, see everything through a large 2.7" monitor. I find monitor size integral to good quality images. If I cannot see the picture I am shooting, my photo composition will suffer. Even the width of a hair of movement can turn a good quality picture into so-so if your lighting is not right or you catch the edge of something you do not want in your picture.
This camera comes with a rechargeable lithium ion battery that charges through a USB cable. A two-year warranty from FUJI will give you peace of mind.
As the camera retails for over $20, free shipping to your home is included.
(Expiry: 15th March 2015)