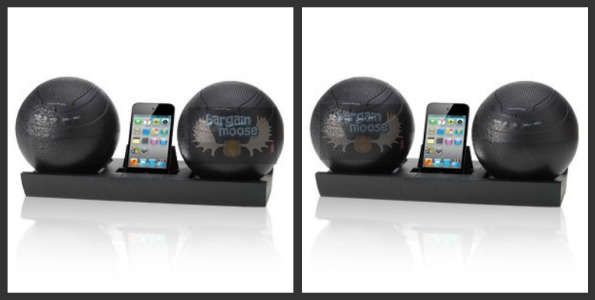 The Source Canada has their Instudio Rockhampton waterproof speakers on sale for half price.  These speakers are for your iPhone or iPod and are just $99.99 (regular price is $199.99). This offer is available until 25th January 2012.
Here is a review submitted by a buyer that gave them a 5/5 review:
We charged and set it up and this is one great little unit!!! We use it out at the hot tub and the sound is awesome and can be heard over the sound of the jets....high quality for the price! It almost sounded better than my high priced built in speakers inside the house.
These speakers have a cool look to them rather than just the ordinary square speakers.  I love that they are round instead.  These speakers are wireless and fully rechargeable so no need to worry about batteries.  They include a 3.5mm cable and an adapter for the transmitter.
I like items like this because my family likes to camp.  These would be awesome to take camping because they are wireless and waterproof.  You don't need to worry about this kids or dogs running around and knocking it over while you are outside with food and drinks.
(Expiry: 25th January 2012)