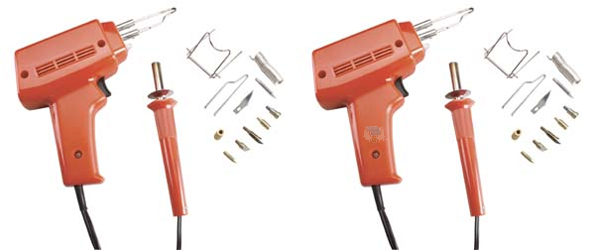 I hope you're all enjoying your Friday so far, my fellow Bargainmoosers! The Source currently has a clearance deal for their Nexxtech Multi-Purpose 3-In-1 Soldering Kit - this normally retails for $24.99, but you can now purchase this handy kit for just $9.96! Best of all, you'll also be able to get free shipping when you use the coupon code below! This soldering kit may not be available for very long, so take advantage of this deal now before it's gone!
Click here to check out this deal @ Thesource.ca now
Coupon Code: TS4411
Discount: Free shipping
Expiry: Unknown
If you're looking for some versatile tools that you can use on occasion, then you should consider buying this Nexxtech Multi-Purpose 3-In-1 Soldering Kit. This kit includes an instant heat-up soldering gun, and a 3-in-1 heating pen. It's the perfect DIY kit, especially when you're using it on wood to make crafts, or if you're fixing electronics.
I heavily rely on my soldering iron whenever I need to make electronic repairs. Whenever a wire is spliced (I usually need to fix these wires on my old arcade and pinball machines), I use my handy soldering iron to fix these wires. I just hold the wires together, I plug in my soldering iron so it could heat up, and then I get some solder and fix those wires. It's easy to use, and it gets the job done.
This Nexxtech Multi-Purpose 3-In-1 Soldering Kit would be a great stocking stuffer! It's affordable, it's something that people who are handy can really appreciate, and you'll also get free shipping!
A similar soldering iron sells at Home Depot for $22.99. I've included a brief review of this Nexxtech Multi-Purpose 3-In-1 Soldering Kit from a satisfied The Source customer below:
Solid build. The soldering gun heats up quickly. The heating pen comes with several tips and a hot knife. Very good tool for home DIY.
Happy hunting, Bargainmoosers!
(Expiry: Unknown)