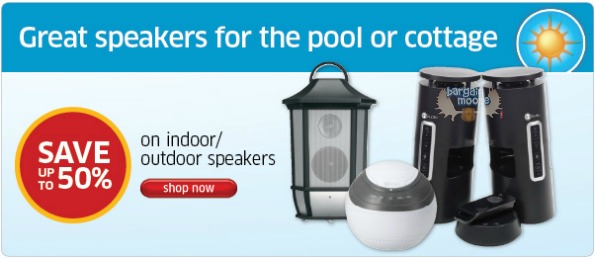 Get $100 off inStudio Fiji 900Mhz wireless indoor/outdoor speakers at The Source Canada. Regularly $199, now only $99. Check for: WEB ID: 4016029.
We are in the process of renovating our backyard so instead of being a party of weeds, we can actually use it for entertaining. Also so the kids don't have to scream every time they step on one of those super sharp weeds on the way to their broken down slide. Part of our renovations will include a nice seating area for guests with drinks and music and this is a great time to buy the speakers for that music, with this awesome sale.
These waterproof speakers mean you can have them by the pool or out in the rain and they will be ok. They run on batteries and feature a remote control so you can easily adjust the sound levels when the neighbours start to complain (or when they come over to join you and now the party has started).
The reviews say loads about these speakers and how easy they are to use and how great the sound quality is. The auto shut off can be handy (or maybe annoying as one reviewer put it), especially if you are the type to leave something on and do something else for a while. You don't have to come back and shut the music off.
If those speakers don't catch your fancy, there are other speakers also 50% off on sale right now at The Source.
Get free shipping on orders over $20.
(Expiry: Unknown)