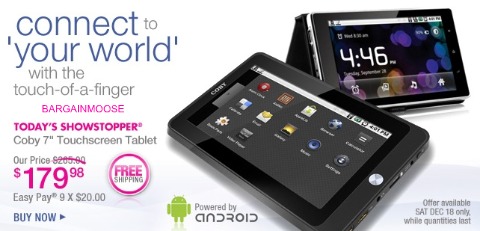 The Shopping Channel is offering a 1 day Showstopper (Today, December 18th only people) for a Coby 7" Internet Touchscreen Tablet. It is only $179.98, $85 off it's usual price from them. They are including free S&H.
This discount puts it on par with the USD price offered by Amazon.com (which of course we can't import up here), so it is a good price.
Now you may be wondering what this device is. Well.. it does this:
Browse the web wirelessly or enjoy media on a sleek and stylish media device. It also allows you to wirelessly access the Internet through a hi-speed networking support and includes more than a dozen built-in applications, each one identified by an icon. Among the included apps are an alarm clock, browser for surfing the web, calculator, email, gallery for viewing and playing videos, music and video player for launching the mobile YouTube browser page to watch Internet videos and more! It also has the Aldiko E-Book, for downloading and reading thousands of e-books (which supports the ePub standard) and AppsLib, to browse, download and install apps from the AppsLib marketplace for a complete mobile Internet solution. Enjoy 1080P HD videos, photos, music, and more in the comfort of your living room when connected to your TV via HDMI.
If you got through that, or if you didn't.. it is like a mini iPad... at a fraction of the cost. It has both good and bad reviews on Amazon, and if you get one I suggest reading some of the reviews. Some of the differences would be less apps and a tougher screen (which might be good for kids).
One of the reviews I liked said:
with facts in hand, the tons of functionality they offer, and the extremely low price tag, I was very comfortable purchasing three of these as Christmas gifts for my loved ones.
Anywho, thought this was a very good deal.
Offer valid December 18th only!