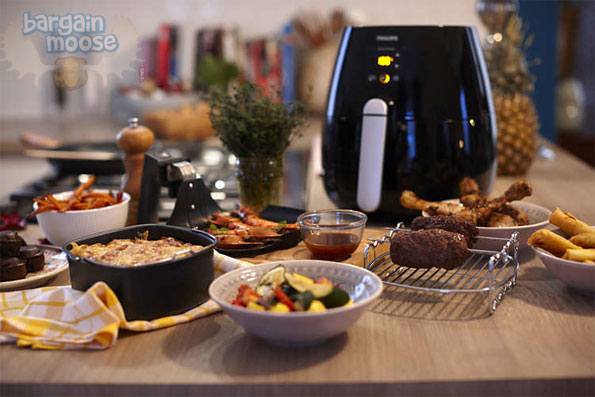 Can't get enough of fried food? Then here's a wicked deal from The Shopping Channel on a healthy deep fryer... that's right -- healthy! Right now, you can save $100 on the Philips digital airfryer: instead of $299.99, get it for just $199.99. Be sure to also enter The Shopping Channel promo code SHIP150 to have it shipped for free.
I have to admit that before seeing this deal, I had no idea that airfryer were even a thing. As it turns out, it's exactly like a deep fryer except for the fact that it uses little to no oil. How awesome is that?
This means your food will turn out much healthier than if you were to actually deep fry it in a lot of oil. Don't be fooled into thinking that it's 100% healthy though but it's still a better alternative for when that craving for deep fried food kicks in.
Basically, the Philips airfryer works by: "[combining] fast circulating, superheated air, a starfish design and optimal heating". Check out Airfry Reviews for handy diagrams on the exact way that oil less fryers work.
The temperature is adjustable up to 200ºC (or 392ºF) and there is also a cooking timer that you can preset for up to 60 minutes. There are only 3 reviews at The Shopping Channel for this air fryer but they're all 5/5 stars! Here's one of the reviews:
I use it almost everyday ... I love this machine! I have finally perfected crispy fries - took a few attempts but now I am addicted to fat free crispy fries. Have cooked a small roast, small chicken, steaks, chicken breasts ... and my favorite has to be chicken wings.
On Philips' own site, the suggested retail price is of $349. I didn't find this exact air fryer anywhere else but looking around, the cheapest air fryer I found is the Black & Decker air fryer for $169.99 at Canadian Tire. It's certainly cheaper but it's not digital and it doesn't come with any accessories or cookbooks, which brings me to my next point: the Philips airfryer comes with both a double layer accessory and a cookbook! The latter is actually available for preview on The Shopping Channel's product page. Under the picture of the airfryer, just click on "recipes" to open a PDF. Here's a sample recipe of jerk chicken wings: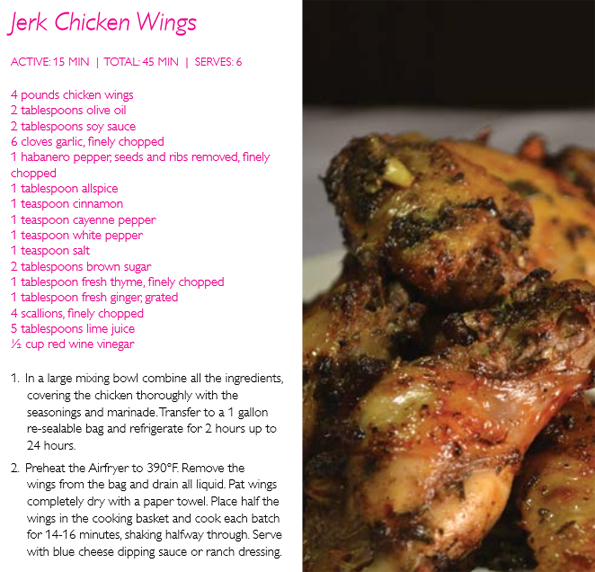 Looks yummy doesn't it? Moosers, what is your favourite deep fry recipe?
(Expiry: 13th July 2015)