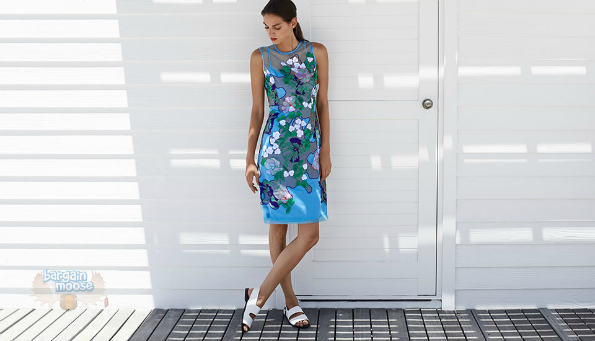 There is only one promotion I care about at The Outnet (US) - free shipping. Receive free shipping to Canada with the following coupon code to celebrate Mother's Day. Shipping to Canada usually starts at $24.95 USD so you are saving a large chunk of money with this coupon!
Click here to shop discount designer goods @ Outnet.com now
Coupon Code: MOMSDAYOFFER
Discount: free shipping
Expiry: Unknown
Canadian shipping is express shipping so you will receive your purchase in three to four business days after your order has been accepted. All prices are in USD unless you sign into your Canadian account. When you sign in, prices (generally) switch over to Canadian. It is important to know that all duty / customs fees are calculated and charged at checkout. There are no hidden fees or fees you need to pay at your door.
Spring is here and I have been busy looking at dresses. Nothing says spring more than throwing on a sleeveless dress and a pair of sandals for the day. This Kain Nirvana stretch-jersey mini dress is on sale from $197 down to $87.75. This dress qualifies for an extra 30% off at checkout, thus you will pay $72.49.
Designer does not need to be expensive, as we can see from designer collaborations with Target (which just left Canada). The Target designer collections are always hard to get your hands on and they generally resell on eBay for a pretty penny. In the shoes section I found these Peter Pilotto for Target Geometric-print canvas sneakers and Floral-print canvas sneakers. Originally $29.99 a pair, they are now on sale for $17.99 with an extra 30% off at checkout. At checkout they come down to $17.99.
Rebecca Minkoff is a great designer of purses - I even own one but I do find the one I purchased a bit big. I would love to get my hands on this Mini Mac printed coated canvas shoulder bag on sale from $145 down to $79.75. The blue and white stripes with beige accents feel nautical. The same bag comes in a neon pink / orange colour variation (different pattern too) for the same price.
I could not help but look at one of my favourite designers: Alexander McQueen. These MCQ by Alexander McQueen Faux leather high-rise skinny jeans are on sale from $300 down to $90.
The Outnet is a fantastic place to buy designer clothing on a budget. Combine the above deals with free shipping on every order for the best deals possible.