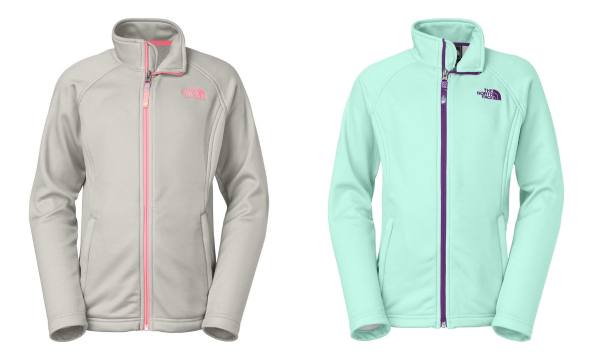 The North Face is one of the most popular outdoor brands in Canada. They make quality clothing for men, women, and children and the price reflects this quality. However, I found a great little deal on The North Face Girl's LW Agave Jacket. Originally $84.99, the jacket is now on sale for $37.99, Use coupon codeRIDETHEMOOSE to receive free shipping: that is a $10 value.
I am blogging this deal for four reasons. First, The North Face is a high quality brand that makes quality outdoor wear. Second, this jacket for girls is currently available in XXS, XS, S, M, and XL between the two colours. Only size L (large) is out of stock. Third, this fleece jacket is perfect for the fall weather as it will keep your little girl toasty warm. It also is excellent for layering over sweaters and under other coats.
Lastly, 55% off a North Face coat is a fantastic deal made even better by our exclusive free shipping coupon that will save you an extra $9.99. Combine all these points together, and you have one amazing deal.
This jacket is perfect for every day wear. It has a midweight warmth (perfect for fall and spring) and is lightweight. Thus, this jacket is perfect for layering as it will not weight your child down. It is made of stretch-hardface fleece finished with a soft, brushed back. The jacket also has a water-repellent finish to keep out light showers and flurries.
I price compared this jacket with North Face themselves, where the jacket retails for $75 USD = $99.91 CAN. As you can see, these jackets are generally not cheap so a deal like this is pretty sweet.
I own two North Face Jackets and am quite pleased with the quality. One of them has held up over about six years of wear and the other is on two years and going strong. They have been thrown in backpacks, crushed in purses, stowed in suitcases, left on the floor, and abused to no end. However, they have held up remarkably well and are still in great condition. This is why I like to buy quality items on sale: they last.
(Expiry: Unknown)