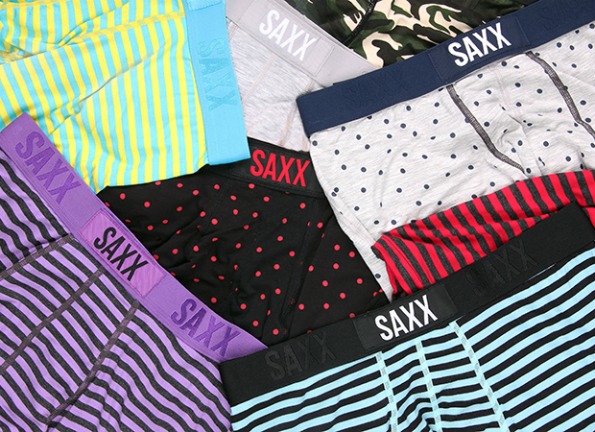 Note: 10% off coupon is expired. You can still use the other coupon code for free shipping!
The Last Hunt has a killer deal for all you men who love your Saxx underwear (and women who love your men in Saxx underwear). All Saxx Underwear on The last Hunt is currently under $15 and you can use our exclusive The Last Hunt coupon code MOOSEMANIA10 for an extra 10% off OR our exclusive coupon code RIDETHEMOOSE for free shipping no minimum. With underwear as low as $11.69, you will not want to miss this sale.
There are currently four styles in this sale. The best discount is on these Saxx Men's Ultra Modern Fit Trunkon sale from $29.99 down to $12.99. They come down to only $11.69 after you apply the exclusive discount coupon code. I am surprised to still see two colours available and sizes small, medium, large, and extra-large still in stock.
All the other styles are a bit more expensive but well worth the cost as these all usually retail for $30+. The Saxx Men's Vibe Modern Fit Boxer has six different patterns to choose from and many sizes in stock right now. Originally $29.99, these boxers are on sale for $14.99. After coupon code, you get to pay $13.49.
Next, we have the Saxx Underwear Men's Ultra Boxer Fly. While sizing is getting a bit limited here, you can still pick these up in medium, extra-large, and extra-small. Originally $29.99 and on sale for $14.99, you pay just $13.49 per pair.
Lastly, we have the Saxx Underwear Men's Platinum Boxer Fly, which has a higher original retail value than the others. Originally $34.99, these are also discounted to $14.99. After coupon code you pay $13.49. Only sizes XL and XXL are currently in stock so you know that these have been popular.
I was trying to explain to someone why Saxx is so popular. Saxx underwear has a unique technology - mesh panels inside the underwear on either side of the male bits that keep them from rubbing against his body. The mesh is breathable so it is comfortable and this 'technology' reduces rub and increases comfort. My partner has a few pairs and he says they are great for when he is more active: like when he spends a day on his feet shopping or he goes for a run. They really are more comfortable.
If you are buying in bulk, then the 10% off coupon code will be your friend. If you are only buying a few pairs, then use the free shipping coupon code. Essentially, if your order is over $100... then you will save more money with the 10% off coupon than the free shipping coupon. Raid the rest of The Last Hunt's sale sections or team up with a friend and split the shipping cost between you if you want the extra 10% off.
(Expiry: unknown)