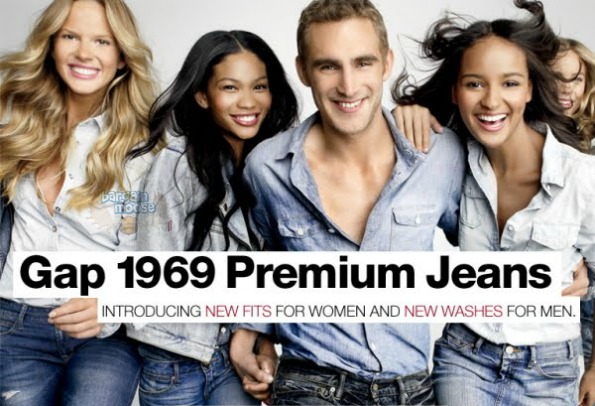 The Gap Canada is offering 40% off the entire store and you can still receive your order by Christmas! They have a pile of jeans in their sale section right now, and with the Gap coupon codeGAPWRAP they start at just $11.99 a pair when they cost $69.95 or more each originally.
These 1969 faded high-rise skinny jeans in white wash grey are your best deal by far. Originally $84.95, the jeans are on sale for $19.99. Apply the above coupon code and they come down to just $11.99 in your cart. That is an 86% savings! These jeans are made of premium cotton and have 2% Lycra/Spandex for a perfect fit. This one reviewer wanted to clear up some misconceptions regarding the colour:
I love this jeans! The color is an even gray, not like the color in the picture which looks like from the 80's. Feels great and accentuates the right curves!
Next on our list of amazing jean deals at The gap, score a pair of 1969 sexy boyfriend cords in light sage for just $11.99 after coupon code, originally $69.95. These are made of a cotton polyester blend and have that beautiful textured corduroy look and feel. Features include five pockets and frayed accents for that worn-in look without even trying.
There are also several pairs of jeans priced just a few dollars higher. I like these 1969 double-dye always skinny cords as they are a very saturated dark jean. I always preferred dark jeans to light coloured jeans. Reviews on fit seem a bit all over the place, so give a few comments a read to guide your size selection. Originally $69.95, these jeans are on sale for $22.99. After coupon code, they come down to $13.79.
My favourite jeans for the price are these 1969 high rise crop jeans. For me, crops are almost long enough to be regular jeans because I am so short. Originally $79.95, these are also one of the really great jean deals as they come down to $13.79. This reviewer just loves them:
Love these, perfect length and fit!!!! I bought 2 pair, one for a longer fit and the other for a more Capri fit.
Jeans are a staple in most wardrobes, so prices like these are a real treat. Use this opportunity to stock up on wardrobe essentials.
Receive free shipping on orders of $50 or more across any of the three sister stores: Old Navy, Banana Republic, and The Gap. All orders placed by Sunday will arrive in time for Christmas.
(Expiry: 21st December 2014)