The Gap Canada has a one day deal on today where children's sweaters are only $20, and select women's and men's sweaters are only $25 each! Use coupon codeGAPFRIDAY to take an extra 50% offyour order, bringing sweaters for kids down to $10 and sweaters for adults down to $12.50! (Coupon has expired)
I have never quite seen a deal like this so I am super excited! In the women's section I fell for the Brooklyn V-neck pullover on sale from $54.95 down to $25. after coupon code, pay just $12.50 for this sweater in a variety of colours. I like this sweater because it is slightly over-sized and has a nice pronounced v-neck, which is my favourite style in shirts. The shirt looks cozy.
Next, I checked out the Brooklyn pullover sweater- the same style but in a more conservative neckline. This top comes in a plethora of colours with good size availability right now. Originally $54.95 and now down to $25, pay just $12.50
For the men, sizes and styles are getting pretty limited. You can still buy the Marled crew sweater for only $12 after coupon code. This shirt was originally $49.95 but is on sale for $24. The Marled multi-stripe V-neck sweater is also still available in two colours and several sizes. Originally $54.95, you pay just $12.50 after the sale price and coupon.
I think the children's sale is the most promising and has the best selection of sweaters on sale. This Intarsia penguin sweateris super adorable and a great winter sweater for your child. Originally $44.95, the sweater is on sale for $20. You will pay just $10.
I like this Jacquard geometric bunny sweater and wish they had it for adults. The fluffy bunny tail sticks out from the shirt for a great 3D effect. Again, full price this sweater would have cost pretty much $45, but now you will pay only $10.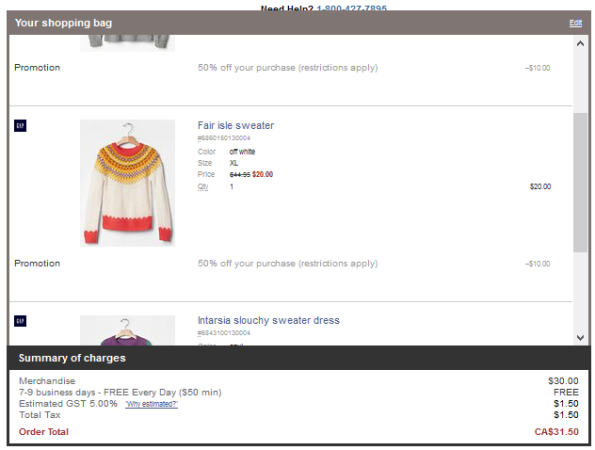 You can see how this works in my cart. I loaded my cart up with three sweaters that were each on sale for $20 (children's sweaters). Then I added on the coupon code and you can see it took an extra $10 off each sweater.
For free shipping, your cart only needs to total $50 BEFORE coupon code. That would be two adult sweaters or three children's sweaters. Essentially, any cart total of $25 or more AFTER coupon will ship free.
(Expiry: 24th November 2015)