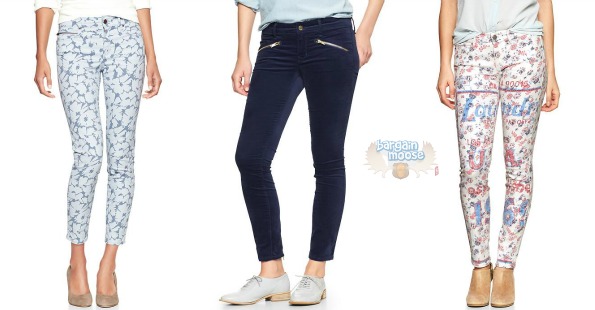 You are going to LOVE this little sale plus coupon combination I dug up for you. Check out this bunch of bottoms that were all $79.95 and are on sale for under $20 a pair. we are talking 75% off+ on the original price people!
Gap makes very good quality pants and jeans. I know because I have worn them for years. I also just got my Mom onto Gap jeans and she totally loves the fit and wants me to watch out for any good Gap sales. So here I am, good daughter and all, watching out for good sales on Gap jeans. While the style I want is not on sale, I did find these fantastic deals.
These fantastic 1969 floral statement always skinny skimmer jeans are available in all sizes (except for 00) and also come in either long, regular, or ankle length. They are the perfect jean for summer nights and would look fantastic paired with sandals and a long flowing tee. Originally $79.95, they are now only $19.99.
These 1969 velvet always skinny skimmer pants are available in three different colours: cherrywood, becca blue, or navy. Sizing goes all the way up to 20. The best availability is in the cherrywood, but there are still several sizes available in the other two colours. Originally $79.95, they are now on sale for $18.97.
Last but not least, these 1969 floral ankle-zip legging skimmer jeans in blue floral are on sale for $17.97, originally $79.95. The green floral is a bit more expensive. They come in regular (sizes 18 and 20 left), or tall (sizes 4, 6, 14, and 16 left).
Seriously, you cannot beat 75% off bottoms to start of your summer.
Get free shipping on orders of $50 or more.
(Expiry: unknown)