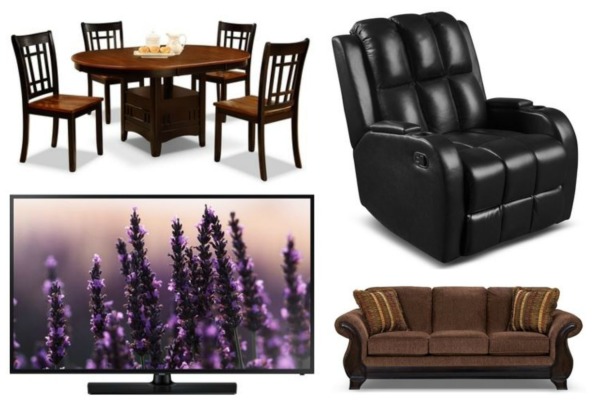 The Brick's Boxing Day sale is now live! Here is your opportunity to get massive discounts on almost everything you need for your home. I am in dire need of a new sofa, and I can't wait to pick one out! The only issue with The Brick is that prices may vary a tiny bit depending on your location, but hopefully they don't increase by too much where you live. Don't forget to check out our Boxing Day dashboardfor other great discounts as well.
So the Boxing Day Blowout starts at 6 PM at TheBrick.com tonight, and in stores the doors open for the Boxing Day Blowout Sale on December 26th at 6 AM. This is pretty exciting, there are discounts of up to 80% off the regular price on high quality furniture, TVs, appliances and more. So let's take a look at the Boxing Day Blowout discounts that are available for The Brick Canada, shall we?
I just love this 96" Ivan Chenille Sofa. I am definitely going to be purchasing this if it fits in the space I want it to. This sofa is quite length actually, but price is quite amazing. Originally this Ivan Chenille Sofa was $1000, but on Boxing Day you can snag it for $499 at The Brick. The loveseat will be just $479 and the chair will be just $399. Just keep in mind that this offer is only valid on Boxing Day, and I am sure it will sell out rather quickly.
You will also get up to 80% off leather and reclining sofas. The least expensive option is going to be this Rocco Leather-Like Fabric Reclining Chair, which you can now snag for just $399. It was originally $749.97 and this black leather is going to be a bold addition to any living room.
I am also quite impressed with how low the prices are on bedroom sets. You can get a variety of 4 or 5 piece bedroom sets on sale for as much as 50% off the regular price, which is quite a steal. Where else can you get a dresser, vanity mirror, tall boy, side table and head board/foot board for as low as $299 for the entire set?
Exact deliver costs and the selection of delivery and pick up date is available at the check out process. If you have a truck, or know someone with a truck then you can get free pickup at your local The Brick store.
Moosers, are you shopping for furniture this Boxing Day?
(Expiry: 31st December 2015)