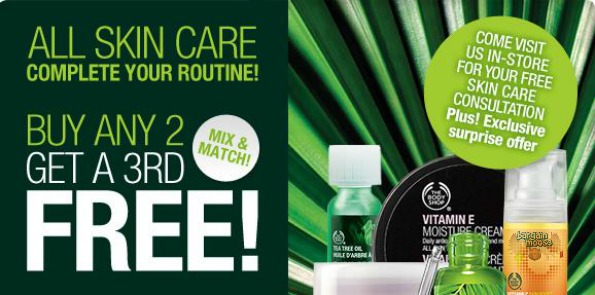 The Body Shop Canada has a great sale of their skin care line right now for a limited time only.  Buy any 2 products from their line and get the 3rd item free.
There are 6 different categories of skin care products to choose from and the great thing is, you can mix and match the products.  Sales like this are good to in on with a friend.  You can get what you want and split the cost.  I personally like the Body Shop products but I can honestly say that I have never used some of their skin care line.  I wait for offers like this to try new products so that I don't have to pay full price on something that I have never used and may not like.
One of the products I have wanted to try is their Natrulift Softening Toner $14.  I also wanted to try their Tea Tree Mask $15.  Since the deal is buy 2 get 1 free, I would also get this Vitamin E Body Butter $18 because I know I like using it.  Just like any other sale, you will pay for the 2 highest priced items and get the lowest priced item free.  That means I would get the Toner for free making my purchase of 3 items just $32!  I find it hard to get 1 facial cream for $32 at a drug store and with this deal I will get 3 for that price.  It's a great deal!
(Expiry: Limited time offer)