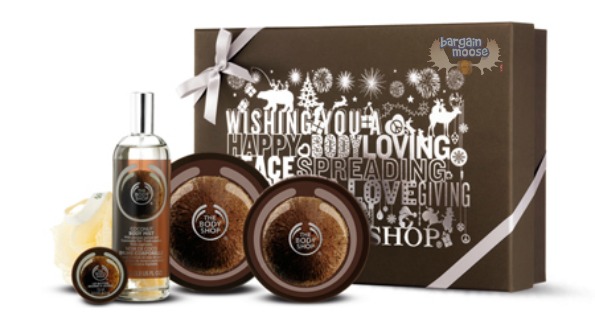 I've got a very hot deal for you Body Shop lovers out there! Get $10 off your $20 order until Sunday with our exclusive coupon code!
Click here to shop @ Thebodyshop.ca now
Coupon Code: BARGAINMOOSE
Discount: $10 off $20
Expiry: 14th December 2014
I love hot coupons like this! Get a gift for everyone on your list from The Body Shop and save $10 on your very low purchase of $20.
The Body Shop also has a buy more, save more promotion going on, which is stackable with this coupon. I would suggest adding whatever it is you like to your cart to see your buy more discount, then add the coupon on top to get the $10 off.
Basically the buy more deal is 30% off three items, 40% off four items and 50% off five items. Once you add items to your cart, your discounted price shows up, which to me, makes it a little confusing because is that the price with the 30% off with three items in the cart, or is it the price of me putting a fourth item in my cart? Either way, your best bet is to add five items and get $10 off for your best savings.
I think the frosted cranberry sounds very scrumptious so I am very partial to that scent for my own home and as gifts. The shimmer lotion sounds great, not just for a fun and festive night out, but all year long. It is actually made from cranberry seed oil from Canada.
I have a little holiday outing with girlfriends coming up, so buying five of these as gifts is a no-brainer. I know my friends would love this and it makes it so easy to get gifts for them all. Regularly $12, you'll get 50% off all of them, for a total of $30, then get another $10 off. Because you wouldn't meet the minimum for free shipping with this purchase, you'd get charged another $7.50.
You could instead keep upping your total to get to $50 and pay only $5 or get it up to $75 and get free shipping.
As always, keep an eye on the Body Shop coupon page for all the latest and hottest coupons.