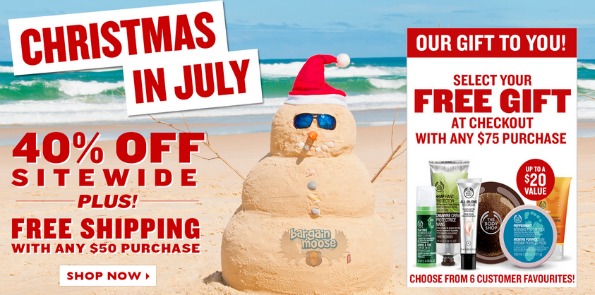 There are some really great deals happening right now over at The Body Shop Canada and I thought I would let you know about all of them.  They are celebrating Christmas in July with some spectacular savings.  Not only do they have a site wide sale of 40% off, they have a free shipping deal and a free gift with purchase deal as well.
The first awesome Christmas in July deal that is happening is a store wide one. The Body Shop Canada has the entire store on sale right now for 40% off the regular price.  Anything you add to your cart will get at least 40% off at the checkout.  I say at least 40% off because there are some exclusions to this deal, but the exclusions will actually get more off.  The sale section will be up to 70% off and the jumbo body scrubs and select gifts that are exclusions as well will be 50% off.  Basically, even though they have exclusions for the 40% off deal, they are good ones because you save even more.
The second great deal has to do with getting a free gift with your purchase.  When you spend $75 or more on anything, you will be able to get a free gift with a value up to $20 for with your purchase. You will also be able to actually choose which free gift you want from six different favourites. This is perfect because you know you will be getting something that you actually want instead of a free gift that you may not use.
Lastly they have a free shipping deal.  Normally, you would spend $5 for the cost of shipping when you spend $50 or more but right now, they are offering you free shipping for that same price!
That means if you take advantage of all the deals at the same time, you will get 40% off your purchases, a free gift valued at up to $20 and free shipping.  It just doesn't get better than that! It's the perfect time to stock up on your favourites or grab those shower and birthday gifts you may be needing soon.
Merry Christmas in July Moosers!
(Expiry: 13th July 2014)