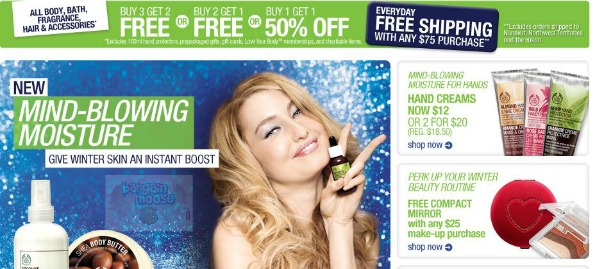 My favorite sale at The Body Shop Canada is back.  The buy 3 get 2 free, buy 2 get 1 free and buy 1 get 1 50% off event is back for a limited time offer.
This sale includes all bath, body hair, fragrances and accessories.  There are a few exclusions though:
Excludes 100ml hand protectors, pre packaged gifts, gift cards and charitable items.
This sale comes around every few months and it is great timing right now just before Valentine's Day.  To save the most money you can do one of two things. This event includes sale items so you could shop the less expensive items so that you are paying very minimal for you items to get the free item.  Or you can take advantage of the sale by purchasing some favorites that tend to be more expensive and stock up on them while you can get free items saving you money in the long run.  Either way you can't go wrong when getting something for free.
Some of my favorites that I would love to get for Valentine's Day are this sweet lemon body scrub on sale for $12 (regular price is $20).  It makes your skin feel amazing after using it.  I also love the smell of lemons so that is a bonus. I also really like their vanilla body mist spray priced at $13.  I realize that this type of product is up to personal taste but I really like the smell of vanilla as well.
(Expiry: Limited time offer)