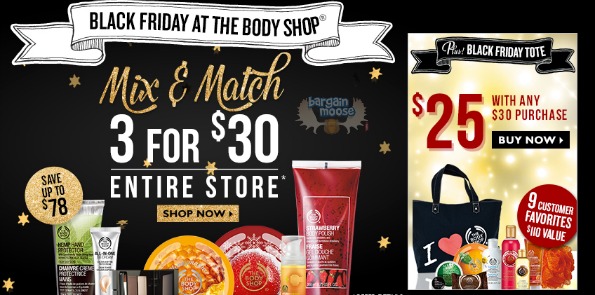 Black Friday is starting early at The Body Shop Canada this year.  Starting today, not only is there a site wide deal, but there is a special black tote deal in honour of Black Friday.  For just a few short days, the entire site is on sale for 3 for $30 and you can get a Black Friday Tote filled with items for just $25 with any $30 purchase.
The first great deal that they have is a store wide deal. Almost the entire store is on sale for 3 for $30. This is the perfect time to stock up on those higher value items to get the most from your money. make sure your order is in multiples of three to get this deal.
There are some exclusions for this deal:
Offer excludes pre-made gift sets, kits, bundles, 50ml Drops of Youth and charitable items online & in-store, and 30ml Drops of Youth and all 400ml Body Butter in-store only.
As you can see, this is one of those times is is better to shop online because there are less exclusions.  Additionally, if you are shopping in store, this deal is over three days earlier.
I have said many times before that my favourite product is their body butters and they are one of the more expensive items.  The largest size is $20 each normally, but right now, you can get three of them for just $30. I wanted to grab a bunch for Christmas gifts and added nine of them to my cart.  Instead of paying $180 for the regular cost, they were just $90 for nine of them saving me a whopping 50%.
As for the second deal, it has to do with how much you spend.  When you spend $30 or more on practically anything, you can get a Black Friday Tote bag filled with goodies for just $25.  This bag and the goodies in it are worth $110 so it is a great deal.  In the bag will be nine different customer favourite beauty products.
Your best play is to get the three items for $30 and then get the Black Friday tote for the $25. This way, you maximize all of the deals and get some great Christmas gifts or treats for yourself!
As for the cost of shipping, The Body Shop Canada offers free shipping for all orders of $75 or more.
(Expiry: 30th November 2013)