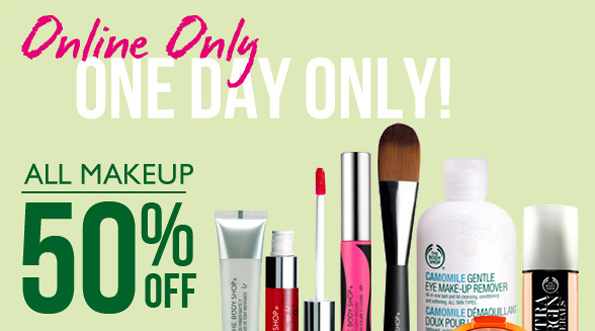 At The Body Shop Canada, they're offering 50% off all their make-up products right now!
This deal is for TODAY only. It's in-store between 11am at 2pm, but the online sale is for the whole day (I am assuming it will end at midnight tonight, but I will check out the deal first thing in the morning too).
I've actually never used the make-up products from The Body Shop, I've really only used their body products like body butters and delicious strawberry bath scrubs. In saying that, I am severely tempted to pick up a few items there (but I am trying to save for buying my new house!).
I've got a big fat blusher brush like this one - it was $24 but is now $12 in this half price offer.
I'm a fan of liquid eyeliner. This one available in black (my fave) or taupe is down from $13.50 to $6.75. You need steady hands for these though!
I've not yet tried mineral make-up, but have heard good things about it. They've got some good offers on, like this half price extra virgin minerals powder foundation for $12.50.
As for shipping, spend $50 and shipping would be a flat rate of $5, which is fairly reasonable. But spend $75, you'd get free shipping - nice.
In other news from The Body Shop, everything else in the entire store is on a multi-buy offer - buy 1 get 1 50% off, buy 2 get 1 free, buy 3 get 2 free. Sadly, that can't be combined with the make-up offer.
(Expires: 30th May 2012)