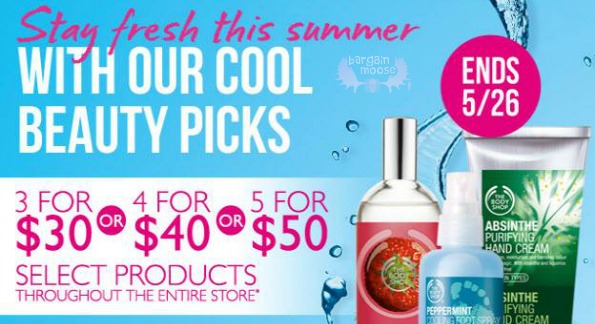 Get any three, four or five regular-priced items for $30, $40 or $50, respectively online and in-stores.
Why not pick yourself up some great Body Shop items like this Aloe soothing night cream, regularly $20. How about the seaweed mattifying day cream, regularly $16. Add the clarifying night treatment for an extra pick-me-up, regularly $20. Get all three items for only $30 and save yourself $26!
There are some exclusions to this deal so check that out below:
Excludes previous purchases, gifts, bundles, kits, sale items, All-In-One BB Creams, 400ml Body Butters, 750ml Shower Gels, Nutriganics™ Drops of Youth, Pomegranate Day Cream, Pomegranate Firming Serum, Pomegranate Night Cream, Pomegranate Eye Roller, Vitamin C Capsules, Vitamin C Radiance Powder, Vitamin E Cool BB Cream, Wise Woman Moisturizer, Wise Woman Night Cream, and Wise Woman Serum.
Shipping is $5 on your purchase of $50 or more, so take advantage and buy five items and you'll pay a total of $55. Shipping is free when you spend $75 or more.
(Expiry: 27th May 2013)