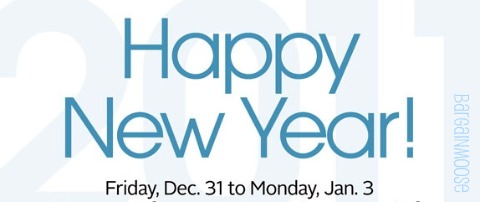 Attention HBC Card and HBC Master card users: From December 31 - January 2 you can get an extra 10% off of almost everything at The Bay automatically when you use your card. You also will get an extra 30% off almost all reduced clothing, luggage, watches, and jewellery for men, women & children.
Thank you so much to Mooser Lisa for sending us this deal!
There are some sales going on in store you might want to check out of you are going:
25% off all calvin Klein men's underwear & women's intimates
50 - 65% off luggage
50% off all Hudson North, London Fog, F.O.G. and Jones New York casual outerwear (men's)
Happy New Years from the Bay!