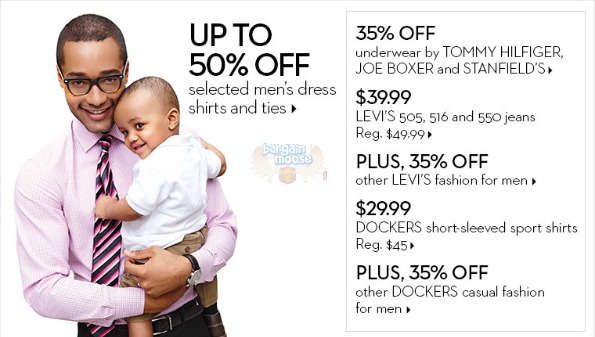 Father's Day is coming up and some people will be buying their Fathers bathroom reading material or funky patterned duct tape. Others will be buying their Father stuff he really needs: new clothing, shoes, and accessories. This week at The Bay you can get up to 50% off clothing and accessories for men.
Here are this week's deals for men:
My Father is still using the wallet I gave him about five years back. It was a very nice leather wallet with plenty of pockets for his various cards. It replaced one he had for as long as I could remember and was in desperate need of replacement at the time.I really like this Ralph Lauren wallet in a pebbled black leather for $40. You could pair it up with a nice black leather dress belt for $45 and get 50% off the wallet. The belt and wallet together would cost you only $65.
Get free shipping on purchases over $99.
(Expiry: 13th June 2013)