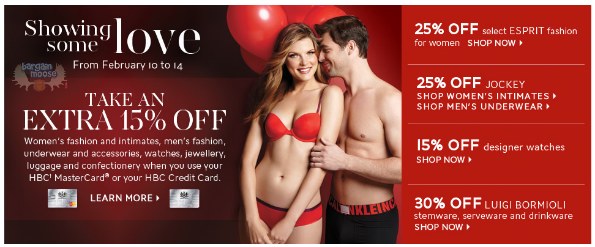 The Bay Canada has plenty of sales on right now to tickle your fancy. On top of them, get an extra 15% off your purchase when using your HBC Card to pay.
Some of the great sales that are on right now are:
On top of those good deals, when you pay with your HBC Card you will get that extra 15% off women's fashion and intimates, men's fashion, underwear and accessories, watches, jewellery, luggage and confectionery. It automatically comes off at checkout.
Now for my pet peeve of the day: my husband and I have The Bay Cards - but since they replaced our previous ones with new cards, the new ones don't work. This I find really annoying as I would love to get another cashmere turtleneck sweater - and with the HBC Card it would only cost me around $41 for the one I want. However, neither my card nor my husband's works. :-(
Extra 15% off and most deals expire the 14th, February 2012. The deals that are *ed expire on the 16th of February 2012.