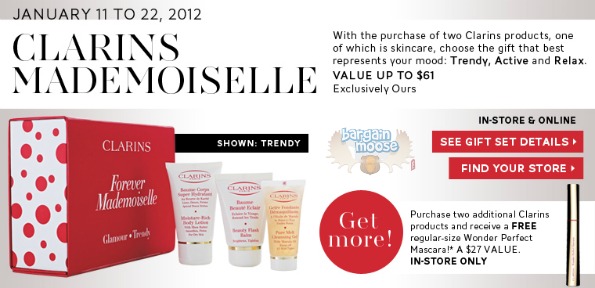 Buy two Clairins products, one of which must be from their skincare line, and choose a free gift with a value up to $61! Plus, if you purchase an additional 2 Clairins products in store, you'll get a free regular sized Wonder Perfect Mascara worth $27.
Choose the gift that suits your mood - Trendy, Active or Relax. Click here to see all the gift choices and products.
This offer is valid while supplies last. Eligible products include all face, body, sun and Clairin's men's products.
The deal's not over yet! If you use your HBC Credit Card from 11th-15th January, 2012 and spend more than $75 on Clairins products, you'll get a $25 savings card to use on your next purchase. This extra offer is available both in stores and online.
For $45, I'd like to try the CLARINS Passion face palette, a limited edition product.
An incredibly light, soft compact powder decorated with the graphic, emblematic motif of this collection. A skin beige highlighted with subtle gold pearl for a perfectly even, velvety, luminous complexion.  The luxury gold case in Clarins emblematic colours is decorated with a timeless red stamp.
The free gift is added automatically to your cart when you add two Clairins items. I picked the Trendy gift as it's the most expensive at $61. Products include Beauty Flash Balm, Moisture Rich Body Lotion, Pure Melt Cleansing Gel, and a shower cap.
Expires: 22nd January, 2012