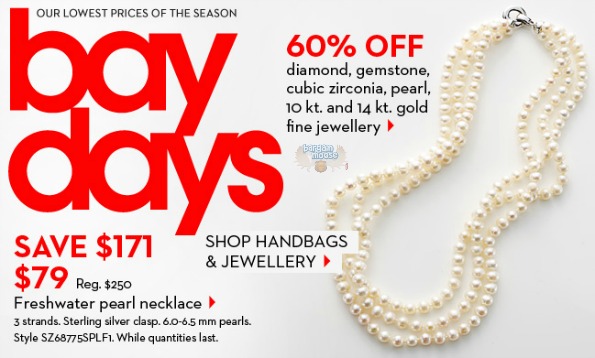 The Bay is offering 60% off fine jewellery during their Bay Days. Get diamonds, gold, and precious stones for someone ultra special during this promotion.
Jewellery is something I don't often look at. Sure I own a few pieces - but I am all about that few (very few) instead of quantity. That is where fine jewellery comes in: fine jewellery (when the word fine is used correctly) tends to be higher quality materials (gold, silver, platinum) with better quality stones, more previous stones, and larger stones. I believe in investing in a few fine jewellery pieces and skip the massive jewellery collection that needs its own dresser to store.
I think this 14k White Gold .20ct. Diamond Pendant is just lovely! It would look best on a petite frame where it could be the star of her neckline. Originally $1,100 it is on sale for $440.
I strongly believe in pearl necklaces. They add elegance to almost any outfit (even jeans) and suit any figure. This Effy Sterling Silver Natural Pink Pearl Necklacewas $300 and is now $120. That is a very reasonable price for 9-10 mm freshwater pearls.
I am very much in love with emeralds - mind you I don't actually own any. However, this 14K Yellow Gold Emerald & Diamond Ringis calling my name - I can hear it! The price tag is a little rich for my blood, but it is on sale from $2,300 down to $920.
There is a huge selection so be ready to spend some time shopping! If you are an HBC Card Member, you will get free shipping when you spend $45 or more. Otherwise, shipping is free on orders of $99 or more.
(Expiry: 30th April 2013)