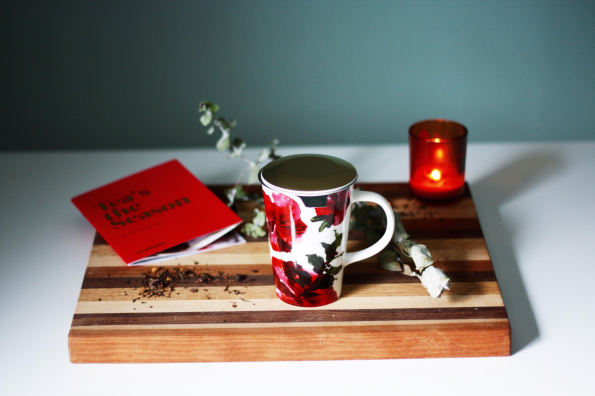 Okay tea lovers, here is the Cyber Monday deal for you! Shop at Teavana.ca today and you can enjoy $25 off $60 when you use their Cyber Monday coupon code at the check out process. You will also get you free shipping on orders over $50, which means you just need to spend $65 to enjoy both of these promos. While this code doesn't seem to be working on sale items, it is still a fab discount on regular priced gifts from Teavana.com.
I, of course, headed right to the sales section with this coupon code just to find that it wouldn't work with already discounted items. I love getting discounts on items that are already discounted. There are not many items in the sale section at Teavana Canada, but the few that are there are definitely nice. You can treat yourself or snag a few gifts for the Holiday season, the choice is yours. But your best bet might be to take this coupon code to the "gifts section" where you can select gifts for under $75.
So here's to Teavana Canada Cyber Monday coupon code:
Coupon code: CYBER15
Discount: $25 off $60
Here are some of the sale items as well:
This Patterned Chai Glass Pitcher has been in the sale section at Teavana Canada for quite some time, and it catches my eye every time I shop online at Teavana. It was originally $24.95 and is now just $12.48. The Festive Fete Holiday Set would make an excellent Christmas gift for just about anyone. While the discount of $5 off doesn't seem grand, it is $50 which means you are just $10 away from getting $25 off. There are several Holiday sets in this price range.
You could also try the Cacao Mint Black Tea for an awesome price right now. You can get enough to make 15-20 cups for just $33.50, where it would have normally cost you $55.84. My favourite type of tea has to be black tea. There are even tea tins and such on sale as well, so don't be afraid to have a good look around to reap the best benefits of this discount code or the sales items for Cyber Monday Canada 2015 at Teavana.com.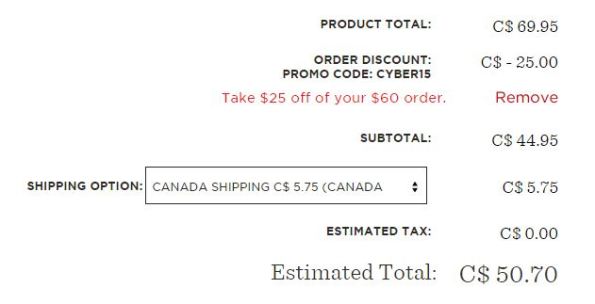 Teavana Canada only offers free shipping on orders over $50, even though their website is advertising "free shipping for the Holidays" so luckily enough you will get free shipping with just $5 more than this coupon requires for Cyber Monday. I mean, you still have to get your cart total to $65 before any discounts are applied, but once your $25 savings is off of that, you're at the normal free shipping threshold.
(Expiry: 30th November 2015)