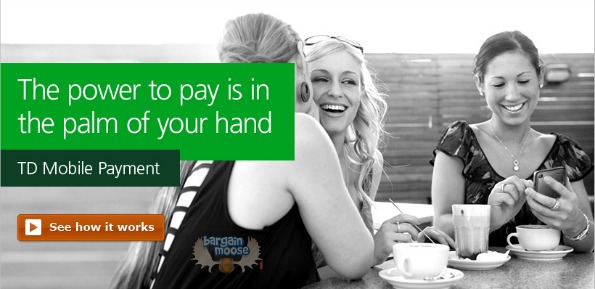 This is a good promo from Canadian banking. TD CanadaTrust has a time limited promotion for Android and Blackberry users. All you need to do is download the mobile app, link your credit card account to the app for the first time, make any purchase within the qualifying period and you will get a $25 credit to your account per smartphone in 2015. There isn't a limit for the qualifying purchase. The $25 credit should appear on your February statement.
TD mobile app offers payment straight from your phone for small payments under $50, so you don't have to worry about remembering to take out some cash or fiddling for your bank card, just place your phone on the sensor.
You can use it anywhere that has a contact-less payment system. A lot of fast food places and clothing stores have these in place. I worry sometimes about losing my wallet and someone using my cards, so I really like the idea that I don't need to take my wallet for short trips anymore, just grab my keys and phone then off I go!
It also has some good security features to keep your bank and credit card details safe. I regularly give my phone to little ones to play some games. With this app you don't have to worry if your child is playing games on your phone because when you open the app to use it it requests a secondary pass code that you set yourself before the app can be accessed, so even if the child knows the pass code to the phone itself they can't get into the app. That pass code would also prove useful if your phone is lost or stolen and each transaction you make from the app is encrypted using a specialized smartphone SIM.
At the start of the gift buying season, this mobile app sounds like a good way to keep track of it all and pay for things easily. For trying it at least once you can take advantage of this promotion and if you spend $25 you will be getting it back. It is not only worth a try for the $25, which you could use for an extra gift or two, but also for the novelty of the bank adding money to your account for using it rather than taking it out for fees and services!
(expiry: 31st December 2014)