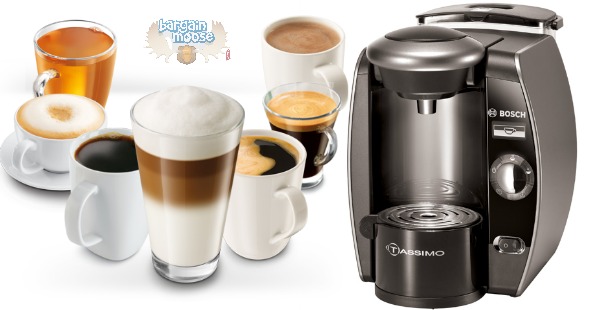 Everyone wants fresh coffee right at the touch of a button, but nobody wants to pay full price for one of the home brewing machines. You may be debating between a Keurig or a Tassimo machine, but the fact that this Tassimo T65 is on sale for just $58.88 may aim your decision in one direction - Tassimo. Walmart Canada last had this Tassimo Single Cup Home Brewing System on sale for $78.88, but now it is priced even lower. Not to mention that this is the best price around and you'll get free shipping.
While the discounts may appear small at first glance on Walmart.ca, you'll notice that this is the absolute lowest price around. Walmart.ca had this Tassimo T65 priced at $78.88 prior to putting this brewer on rollback sale, and now you can snag it for $58.88. Other Canadian retailers seem to be selling this Tassimo Single Cup Home Brewing System for about double that price. See what I mean?
Take a look at what other Canadian retailers are selling the Tassimo T65 for:
This compact home brewing unit will make your favourite beverage perfectly every time, without taking up too much counter space. It will look great in your kitchen or in the office. Just put your cup on the appropriate tray, insert your desired T-Disc and press the brew button. If you need to add more coffee to your cup, just press the plus button until you are content with your morning fuel.
I personally own a Tassimo. My complaint? No variety. I love hot chocolate and there are probably only 2 or 3 different types of hot chocolate available easily for the Tassimo Brewer. There are lots of teas, coffees and lattes available - but still not quite the selection that the Keurig offers. Target had the best variety for the Tassimo machine, and now they are gone. I do miss Target :(
Walmart.ca banished their free shipping with no minimum purchase, but you don't have to worry about that right now. Walmart Canada offers free shipping on orders over $50 (unless they are too large), and fortunately enough this item will ship directly to your home for free. If for whatever reason you don't qualify for that option, you can have the brewer sent to your local Canada Post office for free as well.
(Expiry: unknown)