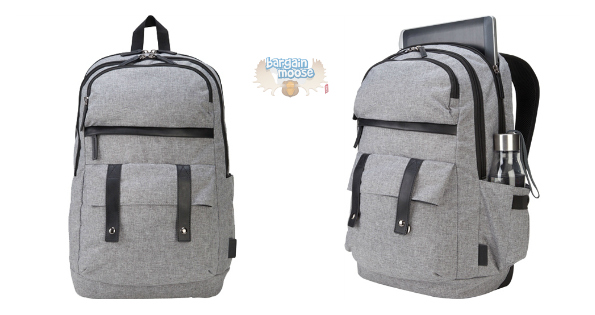 Have you just tossed your child's worn out, weary backpack from this last school year? Perhaps you have noticed that they are outgrowing their current backpack and need a more substantial pack for the coming year. This Targus Life Style Backpack is on sale from $74.99 down to just $24.99 with Dell Canada's usual free shipping no minimum.
Unusually, this backpack was easy to price compare. it seems many online electronic retailers are selling this backpack. Targus Canada even sells it themselves. Here is a rundown on the prices everywhere else:
$28.77 + shipping @ NCIX.com
$49.99 @ Shop.ca
$55.42 @ Direct Canada
$65.99 @ Newegg Canada
$72.11 @ Canada Computers
$73.99 @ Targus Canada
There is a wide range of prices, but all of them are double or more Dell Canada's price except for NCIX. While the NCIX.com deal is quite good, you would need to pay an additional $7.98 for shipping. That brings your total price up to $36.75 before tax.
This is the 15.6" Targus backpack in grey. It has plenty of pockets to stick your bits and bobs in: cell phone, pencils, erasers, markers, and more. The main compartment comes with a large padded pocket designed to fit up to a 15.6" laptop. There is a separate pocket for a tablet and a zippered stash pocket as well for any flash drives or other important things.
In addition, the backpack also has extended compartment space for those few extra packages you pick up at the mall. The water bottle holder is easily accessible and placed separate from electronics: you do not want to get those wet.
This backpack is also ergonomically designed to stay comfortable upon your back. I always find this the most important part of a backpack. I really do not care how much can fit into the pack if it is uncomfortable on my shoulders. I used to have a backpack that would pop blood vessels on my shoulders from the ill distributed pressure.
Overall, this is a good looking backpack at a good price. It has all the space and compartments you need, and probably a few you do not. Carry your laptop, tablet, cell phone, water bottle, and more both safely and comfortably.
Check out the rest of the Canada Day electronics sale at Dell Canada.
(Expiry: 6th July 2015)