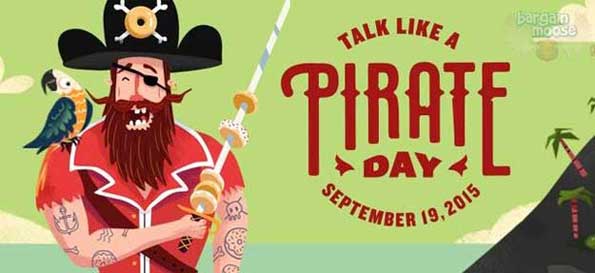 As they do every day, today only, Krispy Kreme is offering a free original glazed doughnut to anyone who talks like a pirate in celebration of Pirate Day. If you dress up, then you can even get a dozen free doughnuts! Don't forget to also checkout Anna's post on fun stuff to do for Pirate Day.
This event is in-stores only but it's definitely well worth swinging by a Krispy Kreme just for a free doughnut. Their doughnuts are pure heaven and if you dress up, then you can get more than just one...To get a dozen original glazed doughnuts, you need to show up in a full pirate costume, which must consist of three or more of these items:
Bandana

Eye patch

Pirate hat

Peg leg

Parrot on shoulder

Pirate Shirt or loose white shirt

Pirate pants (knickers)

Leather belt

Silver & gold necklaces and earrings

Pirate Hook

Pointy black boots or ragged brown sandals
That's actually pretty easy. I would totally just grab an old bandana that I have in my closet, along with my hubby's leather belt and the silver & gold jewellery -- nothing too crazy, but still good enough for a dozen free doughnuts!
If you don't feel like dressing up, then you can talk like a pirate instead to get one free doughnut. Even just one is plenty, though I guarantee that you'll be jealous of the people walking out with a full box of free doughnuts!
Some of the phrases that you could say as a pirate are: "Ahoy Matey", "Shiver Me Tinders!", "Thar She Blows", "Yo Ho Ho". Check out a ton more Pirate Phrases at PirateTreasureNow.com.
For those of you who like to go out and are planning on wearing all of those pirate items, make sure to snap a picture to send it to us, we'd love to see you Moosers in full pirate gear! :D
(Expiry: 19th September 2015)