Mementos of your babies are easier to remember with snapshots. We all take tons of pics of our babies, (along with holding the memories close to our hearts) but here's the truth...
The heart knows but the head forgets - after being pregnant all of those months, then giving birth to your baby and factoring in the countless sleepless nights before/after baby is born it's all bound to catch up sooner or later.
Suddenly you're looking at a baby pic. that you know was a milestone day for your baby but you can't quite put your finger on what the milestone was.
Oh, it gets worse, much worse - by the time you have 2 or more kids you sometimes have to look at the background details of the pic. to even try to figure out which baby it is. Of course these babies are also wearing their brother's or sister's hand-me-downs which makes it doubly hard to figure it out.
If you have a set of these original Baby Milestones cards, you'll always know what the milestone event picture was for! What a clever idea. These are such a cute, bright and clean looking design. They look great as an addition to any photo with your baby in it.
Here's how it works. Pick out a card of the milestone that your baby has just reached, write the date on it, place it next to (or heck, even right on your baby) and take a pic. of your baby with the card in the shot. Unless 'Back to The Future' ever comes true where pics. can start disappearing as a result of the space-time continuum or whatever, you'll always have a record of that day.
Like this Milestone card, for example: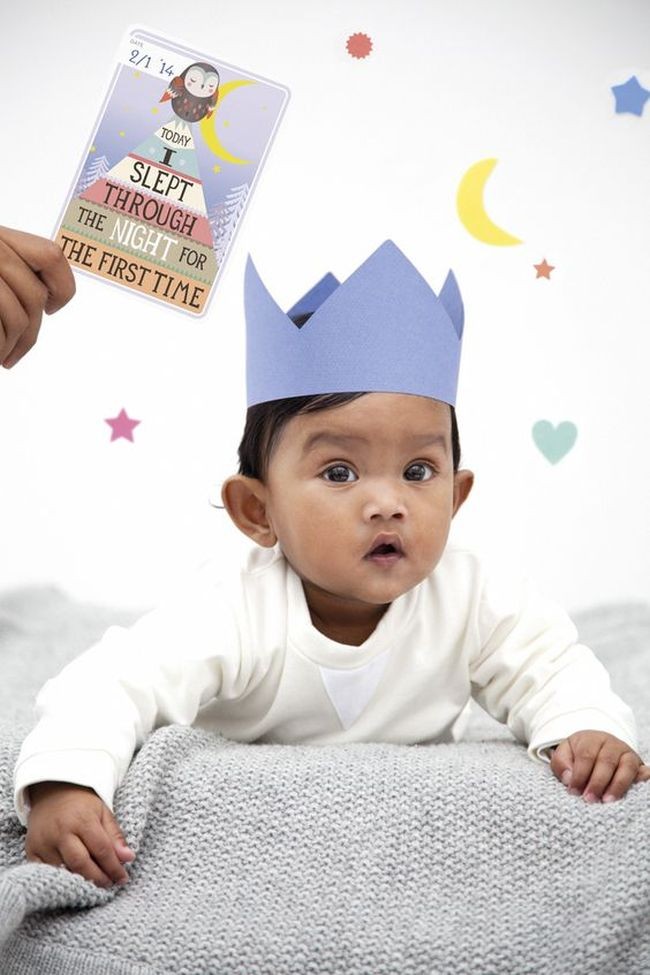 I think you should take this one a step further, and take a picture of you with your baby after finally getting a decent night's sleep. Hey, where's your crown?? Although we all know that the first night baby sleeps through is the same night that you woke up many times in a state of sheer panic wondering if they were o.k.
As far as remembering 'which baby was which' in the pics taken with the cards, you'll figure it out. Especially since you wrote the date on the card! A Mom really does know, though... Until it comes time to saying their name, where you'll run through the list of kids just like Fräulein Maria, governess to the von Trapp family children.
I'd snap this card set up now if you already plan on getting a set for yourself or for a friend as a gift. It's so popular that a couple of weeks ago when I needed to buy a set for a baby shower, I couldn't even get my hands on them and when I did find a set, they were incredibly expensive.
West Coast Kids is selling this entire 30 card set for $26.99. Shipping may start from around $11 on these unless you're spending over $49. You may want to spend only a little bit more to receive free shipping. (Some exclusions apply such as remote areas.) You could pick up the Milestones Pregnancy Cards for a friend who you know would love to use these cards while pregnant or just grab a duplicate set of the same set you're ordering so she can use them when baby arrives - either set makes a great gift.